Are There Any Pick Your Own Organic Apple Orchards in New York?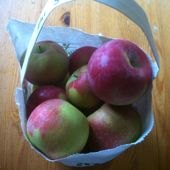 [UPDATED: August 11, 2012]
Many people want to know where you can pick your own organic apples near NYC. I've asked the farmers about this, and they say that in our climate it's very hard to farm apples organically and nobody really does it. Instead, you'll find farms that use low-spray or sustainable farming practices.
Yes, we're all encouraged to eat organic apples because of the high amounts of pesticides and fungicides generally used on the fruit. However, picking your own apples or buying local apples is much better for the environment than buying organic apples that are shipped in from distant climes. Plus, you're supporting small local farmers.
Here are a couple of places where you can pick your own not-quite-organic apples near New York City.
Stone Ridge Orchard – Stone Ridge, NY
845-687-2587
Stone Ridge Orchard is a beautiful farm dedicated to sustainable agriculture. While not certified organic, the owners use the best practices available for our climate, including organic pest control materials, mulches and some biodynamic practices. You can read about the spot's farming practices in detail on the website. We did field one comment from a reader that their four and a half couldn't reach the apples, as the trees were a little tall. We encourage calling ahead for every orchard, but with this thought in mind, if you have very young children, call ahead to see which parts of the orchard will be open, and whether those sections have any dwarf or shorter trees. And check out our post, Apple Picking Near NYC, Especially for Families with Toddlers.
In addition to apples, you can pick your own berries and Asian pears. The farm market also sells other fresh local farm products.
Mr. Apples – High Falls, NY
845-687-0005
Mr. Apples is a low-spray orchard, which means it uses fewer pesticides. It's a funky place; you won't find any of the bells and whistles many of the other orchards have like petting zoos, but there's a little farm stand with cider and you can pick pumpkins here, too.
Other Things to Do in the Area
Both Stone Ridge Orchard and Mr. Apples are located near each other in the Hudson Valley and there are many places to eat and play nearby:
High Falls is a cute little town with a handful of good restaurants (try Northern Spy) and shops.
While in High Falls, you can also visit the D & H Canal Museum, which has some neat things like a working lock model (as in a dam lock, not a door lock), a recreated canal boat cabin, a miniature gravity railroad car and dioramas that illustrate canal life. There are activity sheets to guide children through the museum, and you can also pick up a trail map that leads you on a 20-minute walk past some of the canal's locks and other sites.
High Falls is just outside of New Paltz, a college town with lots of fun stores and restaurants.
Mohonk Mountain House is a beautiful family resort that has 85 miles of hiking trails, a fun rock scramble and many other activities. Though staying there is pricey, you can make a reservation for lunch and stay to enjoy the grounds.
Lake Minnewaska State Park has an easy carriage trail hike, bike paths, swimming and is famous for its rock climbing.
For full coverage of apple picking, pumpkin picking, strawberry picking and farm fun info in the tri-state area, check out our Pick Your Own Guide.