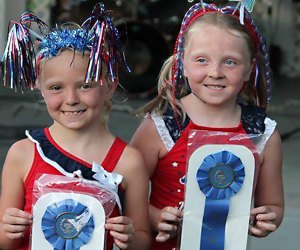 4th of July Weekend for Westchester Kids: Fireworks, Festivals, and More Fun Things to Do
This 4th of July, the fun blasts off mid-week and keeps skyrocketing straight through the weekend. We've compiled a list of kid-friendly Independence Day celebrations in Westchester and the Hudson Valley that feature firework displays Tuesday through Saturday, so you can celebrate the holiday with a real bang!
Among these is the weekend-long Highland Falls 4th of July Festivities, whose highlights include bed races (yes, you read that right). For other seasonal thrills, hit the rides and games at the annual Fireman's Carnival, or seize the chance to actually cheer "Ride 'em cowboy!" at the Orange County Rodeo Festival. Or upcycle those quizzes and other school work into paper airplanes at the Hooray, School Is Over Party!
Read on for more ideas for July 4-7, and stay with us for daily fun all summer long! Though our top picks this weekend happen to fall predominantly in the Hudson Valley, there are many Westchester events to choose from on our Event Calendar. Sign up for our newsletters to get recommendations delivered to your inbox, and follow us on Facebook!