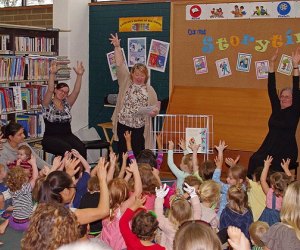 Where Westchester Kids Can Find FREE Drop-in Storytimes
Getting into a storytime group can be nothing short of cutthroat in some places. While the registration-only programs ensure you a seat on the carpet, drop-in programs can provide some much-needed flexibility. Who hasn't suddenly found a morning with nothing planned (or plans abruptly canceled) and a burning desire to just get out of the house?
We've rounded up 15 places with drop-in storytimes—and, best of all, they're all FREE! Looking for more things to do with your kids in Westchester and the Lower Hudson Valley? Take a look at our Event Calendar and sign up for our FREE newsletters.
Libraries
Stories, Songs & Surprises – Bedford
Tuesdays at 2pm; Thursdays at 11:15am
The Bedford Free Library holds drop-in storytime for preschoolers (with an adult) twice a week. With two different times, you have a better shot of working it around nap time. Each 30-minute program has a different theme.
Preschool Story Time and Craft – Armonk
Mondays 3-5pm
Ages 4 and older
Children can stop by the North Castle Public Library and make a story-related craft.
Various Programs – Dobbs Ferry
Tuesdays at 11am and 1:30pm; Thursdays at 11am
Ages 1-5
The Dobbs Ferry Public Library holds three different storytimes broken out by ages. The younger set (1- and 2-year-olds) will participate in stories, songs, and finger play, while the older kids will add a craft to the mix.
General Storytime – Briarcliff Manor
Wednesdays and 10:30am and 11:30 am
Briarcliff Manor Public Library offers weekly drop-in storytimes for babies up to age 2. Groups are broken up by age: Baby Storytime Lapsit (up to 18 months) at 11:30am, and Fun for Older 1s and Young 2s (15-30 months) at 10:30am. All require a caregiver to attend.
Various Programs – Chappaqua
Mondays, Wednesdays, Thursdays, Fridays, and Saturdays
The Chappaqua Library has drop-in storytimes a whopping five days week, with programs broken up by age. Registration isn't required, but the library does request you limit attendance to one session per day. Parking is said to often be a problem, so be sure to leave plenty of time.
Pre-School Storytime – Croton-on-Hudson
Wednesdays and Fridays at 10:30am
Ages 3 and older
This 30-minute program at the Croton Free Library includes stories and songs and is held twice a week.
Baby Lap Time and Toddler Story Time – Eastchester
Thursdays at 10am and 11am
Ages 6-24 months and 24-36 months
These two registration-not-required programs at the Eastchester Public Library include nursery rhymes and stories, including classic favorites for the older set. Caregivers must stay.
Various Programs – Katonah
Ages infants – 5
The Katonah Public Library has drop-in storytimes for infants through age 5. Days and times depend on the programs—they're broken up by age—so check the schedule. Fun fact: Its Mother Goose program was once named in Westchester Magazine's Best of Westchester Awards.
Here We Are Together Story Time – Mount Kisco
Mondays at 11:15am
All ages
Parents with children of different ages will appreciate this Mount Kisco Public Library program, which lets kids of all ages participate together.
Storytime Playgroup – Pleasantville
Thursdays at 2pm
Ages 1-4
Craving some social interaction? This program at the Mount Pleasant Library combines stories and music along with toys and books, and encourages both children and parents to talk and have fun. The library also holds a variety of more traditional drop-in storytimes five days a week at the Pleasantville and Valhalla branches.
Various Programs – North Salem
Mondays, Tuesdays, Wednesdays, Thursdays
The Ruth Keeler Memorial Library holds storytimes four days a week, two of which (Wednesday and Thursdays) are for kids of all ages. The library also notes that siblings are still welcome during all programs.
Kids Unplugged – Harrison
Ages 6-12
Though not strictly a storytime, stories are involved at this weekly event held on Tuesdays at the Harrison Public Library—so are a variety of other activities, including crafts and even circus skills!
Bookstores & Shops
Toddler Storytime – White Plains and Yonkers
Saturdays at 11am
Barnes & Noble holds drop-in storytime with books, songs and coloring at its White Plains City Center, Eastchester, and Yonkers locations. website says first-come first-served because of space limitations, but B&N told us it doesn't turn people away. The Yonkers location also hosts a Tuesday morning storytime for toddlers.
Various Programs – Larchmont
Mondays, Tuesdays and Wednesdays
At The Voracious Reader in Larchmont, there are storytimes for babies through 6-year-olds, which include stories and singing. After the event, head to the attached tea shop, The Proper Cup, for some sweet treats, including ice cream.
Storytime – Read with Rabbit – Chappaqua
Tuesdays at 11 a.m.
Animal-loving kids will get a kick out of this storytime at Scattered Books in Chappaqua, where a real live bunny named Acorn joins in on the book fun.
This article was originally published in February 2016.