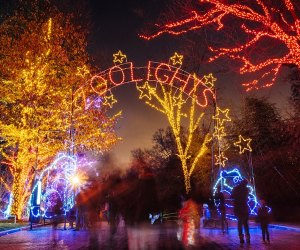 Thanksgiving Weekend Things to Do in DC: PJ Masks LIVE!, ZooLights November 29-December 1
The holiday season kicks off this Thanksgiving weekend, and there is plenty to do for families looking to get into the Christmas spirit. Stroll through the magical ZooLights exhibit and Enchant Christmas, have breakfast with Santa, or enjoy a holiday market. And with only a month to enjoy all the happenings, plan ahead and make the most of the season with our must-do 2019 holiday events list.
Looking for something other than holiday fun? Why not check out some of the great weekend programs happening at museums and education and culture centers around the nation's capitol, from Saturday Mornings at the National Theatre to Law Enforcement Saturdays. As we head into a colder time of year, it's helpful to keep both these venues and indoor play spaces in your back pocket for days that just aren't made for the outdoors. For more ideas for this weekend and beyond, check out our events calendar.
Don't miss out! Sign up for our free newsletter to get family events, activities, and more delivered right to your inbox.