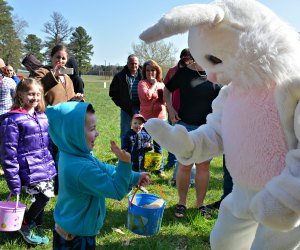 Easter Egg Hunts and Farm Fun for DC Families
This time last year, Easter egg hunts were nowhere to be found. But as we leave winter (and hopefully, Covid) in the rear view, these particularly perfect-for-social-distancing celebrations are multiplying on the calendar once again.
This year, of course, masks are in the mix, and most events require timed tickets, even if the events themselves are free. So don't hesitate—start clicking.
Our top picks? We do love the Leesburg Animal Park, and we're super excited that the Bunnyland Fest is back this year. Stead Park has morphed into an Easter parade this year, but also promises fun (socially distanced) games and treats. Keep an eye on our calendar, too, because we're betting more and more Easter fun will be proliferating there soon.
Don't miss out! Sign up for our free newsletter and stay up-to-date on the best things to do in Washington, DC with kids.