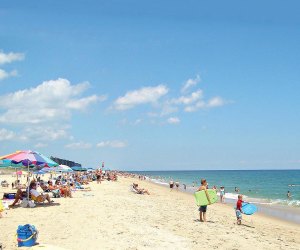 Best Summer Day Trips for DC Families
While Washington, DC is a travel destination, filled with museums, zoos, parks, and restaurants that are perfect for the entire family, there are times when DC kids and their parents want to get out and explore something other than the nation's capital.
With a prime location on the mid-Atlantic seaboard, there's plenty to do when families are itching for a day away. We've put together our favorite spots that are less than a three hour drive from downtown DC. So whether you soak up the last few weeks of summer vacation or want to plan ahead for Labor Day Weekend, read on for our favorite summer day trips.
1. Baltimore, MD - 1.5 hours from Washington, DC
Baltimore is an easy choice for a family summer day trip. From the city's walkable Inner Harbor, complete with the famed National Aquarium, restaurants, and museums, to professional sporting events, festivals, music, and even an insect zoo, Baltimore makes a perfect quick trip from the DC area. Not sure exactly what to do or where to start? Check out our list of 50 family-friendly things to do in Baltimore.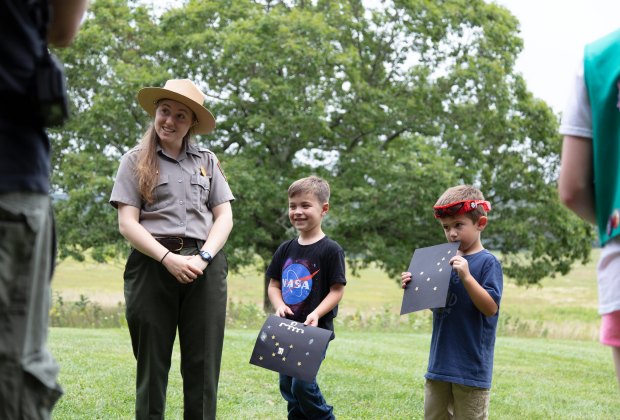 Shenandoah National Park's Night Sky Festival takes place August 9-11 this year. Photo by Kaitlyn Kunce/NPS
2. Shenandoah National Park - 2.5 hours from Washington, DC
Shenandoah National Park is a fascinating and beautiful way to explore the natural world close to DC. Hike the trails, including the easy Stoney Man Trail. Check out a family-friendly museum or two, or head underground to explore stalactites and stalagmites at Luray or Shenandoah Caverns. There's also Dinosaur Land where you can get up close to 50 larger-than-life recreations of dinosaurs, as well as a family movie drive-in. While you can certainly spend just a day in the Shenandoah Valley, you may find yourself wishing you could extend your stay by a day or two.
3. Wilmington, DE - 2 hours from Washington, DC
A straight shot up 1-95, Wilmington is an easy drive from DC and offers plenty to do for families. Enjoy the culture that the city has to offer at several museums, including a children's museum, or grab a kid-friendly theater show. Nature lovers can tour the river by boat, take a hike at Brandywine Creek State Park, or get in some low-level rock climbing. Whatever your family is looking for in a quick day trip, Wilmington is sure to please.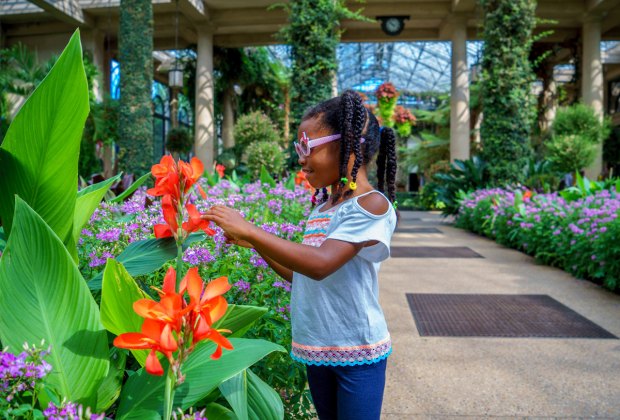 Philadelphia's Longwood Gardens. Photo by J. Fusco for Visit Philadelphia
4. Philadelphia, PA - 2.5 hours from Washington, DC
The City of Brotherly Love offers so much for families that spending just one day here can be tough, but if a day is all you have, then Philly is one place that won't disappoint. Brimming with history and modern day fun, families can tour the Franklin Mint, Independence Hall, and take a peek at the Liberty Bell, or grab a bite in Chinatown, catch a Phillies game, or dance like Rocky at the top of the art museum steps.
5. Lancaster, PA - 2 hours from Washington, DC
Best known for being in the heart of Pennsylvania Dutch country, Lancaster has more to it than just Amish culture. Dutch Wonderland is a great family-friendly amusement park with rides that even toddlers can enjoy. For the train lovers in the family, the Strasburg Railroad, the Railroad Museum, and the National Toy Train Museum are all within a short distance of one another. Foodies will have fun at the Turkey Hill Experience and some homestyle cooking at Miller's Smorgasbord.
6. The Delaware Beaches - 2.5 hours from Washington, DC
Our favorite beaches in Delaware for a day of family fun are Rehobeth, Bethany, and Fenwick Island. From boardwalks to mini golf, wide sandy beaches to tax-free outlet shopping, each of these beach towns offers a lot. Besides the beach, the boardwalk, includinga stop at Kohr's frozen custard, and Funland in Rehobeth are easy attractions for kids of all ages. Bethany Beach has a smaller boardwalk, bike rental shop, and nature center. Once you're ready to dust the sand off your feet, visit the Boardwalk, the Fenwick Island Lighthouse and the DiscoverSea Shipwreck Museum on Fenwick Island.
7. Amusement Parks - Varies from 30 minutes to just under 3 hours from Washington, DC
Ranging from a short half hour drive to Six Flags in Bowie, MD to a two hour and 50 minute drive to Busch Gardens near Williamsburg, there are several amusement parks within an easy day's drive from Washington, DC. Besides Six Flags and Busch Gardens, two other amusement parks are close by: King's Dominion, which is just north of Richmond, and Hershey Park in Pennsylvania. Children of all ages, from toddlers to teens, will have a day of fun, no matter which park you pick. That said, for the younger set, Hershey Park - and nearby Chocolate World - may be the most enticing, and several of the parks include seasonally open outdoor water parks. For the adrenaline seekers, a day spent at any of these parks is sure to thrill.