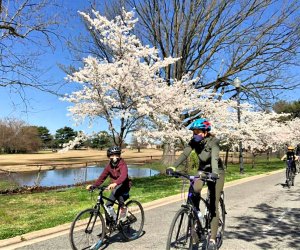 30 Awesome Things To Do in DC in May with Kids: Memorial Day Weekend, Cicadamania, & Strawberry Jubilee
May means warmer weather, more comfortable outdoor dining options, and family-centric holidays such as Mother's Day and Memorial Day weekend. The unofficial start of summer shimmers as nearby beaches, outdoor pools, and water spray parks open for the season this month, assuming things stay on track. The month kicks off with Revolutionary War Weekend at Mount Vernon, so things couldn't seem more on their way to normal.
While much is still virtual, communities around DC continue to step up with great outdoor experiences. From bugs to birds to dinosaurs, kids can explore the natural world, and possibly creep out their parents at the same time.