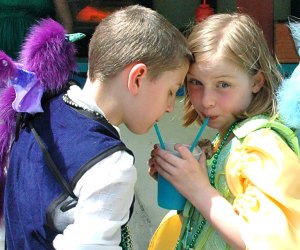 20 Awesome Things to Do in Atlanta in May with Kids: Renaissance Fair, Robots Day
Atlanta has so many fun, family-friendly outdoor events in May, you might ask yourself, "What is this? 2019?"
It certainly looks a lot like pre-pandemic times with festivals, fairs and even a circus. Sure, a lot of these events require masks and social distancing, but it's all worth it when you get to have a turkey "legge" at the Georgia Renaissance Festival, check out local artists at the Chastain Park Spring Arts and Craft Festival and enjoy the children's music of folk legend Woody Guthrie under a tent at the Alliance Theater.
Of course, don't forget mom's special day. (Mother's Day is Sunday, May 9.) Kids can make charm kits for mom through this Mother's Day-themed at-home workshop.
Even though Atlanta is bustling with in-person activities, that doesn't mean virtual events are gone. We have plenty of options for you and your family to stay entertained at Poppins@home.
Harry Potter fans get to combine wizarding and science in the free class, "The Science of Wizarding School/Magical Potions." Not ready for an in-person birthday just yet? No problem. Check out virtual birthday parties like Bubbledad's Bubble Birthday Blowout and Graham Cracker Circus Celebrations.
While we try to promote safe activities that occur outdoors or with social distancing guidelines in place, keep your family and others safe by wearing a mask and maintaining an appropriate distance. If you arrive at an event that appears too crowded, try using the "nearby" search feature on our event calendar to find something else to do.
Remember to sign up for our FREE newsletters to receive posts such as this right to your inbox!