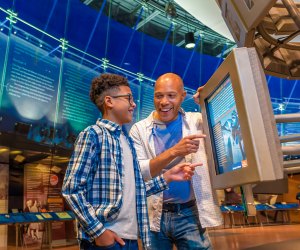 Presidents Day Weekend Things to Do in Philly: History, Superheroes, Culture
Philly families throughout the Delaware Valley look forward to Presidents Day Weekend. This three-day reprieve provides a much needed break from the routine of school and work. Spend the free time by sharing in some of the amazing activities found in our event calendar. Everyone from history buffs to museum goers to outdoors enthusiasts are sure to be entertained.
It makes sense to first recognize this holiday weekend with a little history lesson. Families can discover facts about the role of the presidency at the National Constitution Center, eat birthday cake with George Washington at Washington Crossing Historical Park, or participate in interactive discovery carts at the Museum of the American Revolution. Then, visit the The Academy of Natural Sciences of Drexel University for its latest exhibit entitled Survival of the Slowest which teaches guests about animals such as sloths, tortoises, and tarantulas, or swing by The Philadelphia Insectarium and Butterfly Pavilion for its Butterfly Love Fest where kids can make crafts, play games, and participate in a live butterfly release. Speaking of animals with wings, The Great Backyard Bird Count at Laurel Hill Gardens or West Laurel Hill Cemetery is a fantastic chance to search for feathered friends. Extend the fun by building a birdhouse for the backyard at Warwick County Park.
Additional ideas can be found in the Free Things to Do with Philly Kids in February post and in the list below. Have a great long weekend!