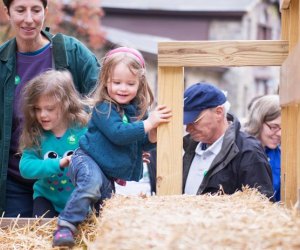 Weekend Fun for Philly Kids: Pumpkin Days, Peppa Pig, Harry Potter October 14-15
There is no doubt Philly families are in for a treat this October weekend. For starters, there are many ways to enjoy the autumn season. Make a scarecrow at Tyler Arboretum's Pumpkin Days Celebration, participate in a pumpkin catapult launch at Hagley, take a hayride at Pennypacker Farm's Harvest Fest, and explore Peace Valley Nature Center to search for autumn birds. Kids eager to wear their Halloween costumes can visit the animals while collecting treats at Elmwood Park Zoo's Boo at the Zoo.
After filling up on fall fun, check out some unique opportunities for gamers, book worms, music lovers, and pig fanatics. Minecraft fans can get stoked for a weekend filled with gaming at Minefaire held at the Philadelphia Expo. Those who enjoy the Harry Potter series can search for artifacts during a Wizard School Scavenger Hunt at the Philadelphia Museum of Art. Rock out with Ratboy Jr. at World Cafe Live or sing along with The Cat's Pajamas performing at the Girard Avenue Street Fair. But, if truth be told, most preschoolers just want to see Peppa Pig Live! at Keswick Theatre.
Keep reading for more ideas for family fun.
Weekend
Boo at the Zoo- Norristown, PA
Put on your costume, grab a trick-or-treat bag, and head to Elmwood Park Zoo to collect goodies among the animals. In addition, kids can participate in a costume contest.
Minefaire- Oaks, PA
All weekend long, Minecraft fans are sure to be in building block heaven at the Philadelphia Expo Center. Visitors can meet their favorite YouTube stars, participate in a costume contest, and even experience Minecraft in virtual reality.
Autumn Encampment & Market- Washington Crossing, PA
See military drills, shop at the marketplace in the historic village area, watch cooking demonstrations, and tour historic buildings at Washington Crossing Historical Park.
Pumpkin Days Celebration- Media, PA
Ever year, Tyler Arboretum hosts this special fall event which features lots of ways to make the season memorable. Families can take a hayride, make a scarecrow, jump on moonbounces, and race through an inflatable obstacle course.

Photo courtesy of Tyler Arboretum
October Hayrides at Hagley- Wilmington, DE
Find a cozy spot and take a hayride at Hagley. On Saturday, participate in a pumpkin catapult, part of the Science Saturday programming.
Saturday, October 14
Peanut Butter and Jams Welcome Ratboy, Jr.- Philadelphia, PA
Get your dancing shoes and boogie to the tunes performed by Ratboy, Jr. at World Cafe Live.
Pegga Pig Live!- Glenside, PA
This popular kids' television show finds its way to the stage at Keswick Theatre. Little ones are sure to go 'hog-wild' when seeing these beloved puppets.
Harvest Fest- Horsham, PA
Visit Pennypacker Farm for a day-long family festival. Guests can expect children's activities, hayrides, face-painting, and games. Best yet, admission is free.
Watson Adventures' Wizard School Scavenger Hunt for Harry Potter Fans- Philadelphia, PA
Explore the Philadelphia Museum of Art and search the exhibits for objects that connect to the Harry Potter series. References are made to the Harry Potter stories to learn about the works of art at the Museum.
Girard Avenue Street Festival- Philadelphia, PA
Children's activities, games, a pet zone, musical performances, and community fun can be found all afternoon on Girard Avenue between 26th and 29th Streets. Be sure to see The Cat's Pajamas when they take the stage at 2 PM.
PECO Second Saturdays- Philadelphia, PA
This free opportunity allows children and adults alike to learn about the art of printing. This session features Spook-tastic Prints.
Sunday, October 15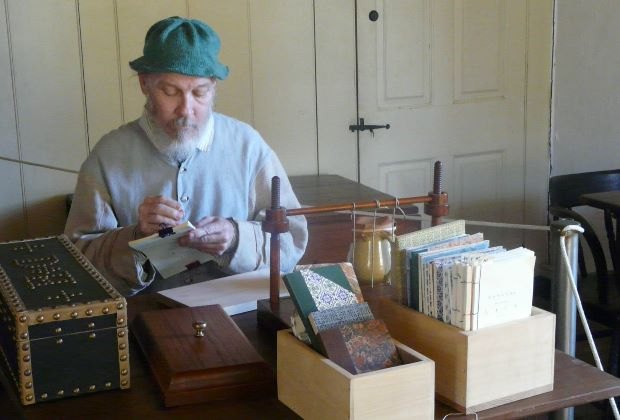 Photo courtesy of Washington Crossing Historic Park
Naturalist Foray- Doylestown, PA
Learn about the birds of autumn by exploring the grounds at Peace Valley Nature Center.
Lenape Village Public Tours- Churchville, PA
Step back in time to simpler days at Churchville Nature Center. Guests can learn how food was cooked, how medicines were made, and how animals were used back in the 1500s.