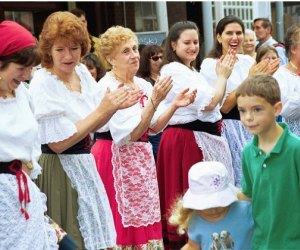 Weekend Fun for Philly Kids: Food, Festivals, Outdoor Fun May 21-22
Time flies when you are having fun as the saying goes. However, when raising children, fun is often defined in many different ways. This weekend's Events Calendar is full of exciting and educational experiences to keep everyone in the family engaged and entertained.
Philly families can savor delicious Italian cuisine at the South 9th Street Italian Market. Afterwards, head up the highway to stop by Peddler's Village's Strawberry Festival for a decadent dessert. Or, grab a basket and gather berries at one of the many PYO strawberry farms located throughout the Delaware Valley.
Once your appetite has been satisfied, venture outdoors to learn about bees, fish, frogs, birds, and other interesting animals. Conclude the weekend with an outdoor concert or a family-friendly movie. To keep up with the latest Philly fun, be sure to follow us on Instagram, Twitter and Pinterest and like us on Facebook.
Weekend
Strawberry Festival- Lahaska, PA
Visitors to Peddler's Village can enjoy strawberry pie, strawberry jams, strawberry cupcakes and other strawberry treats. Guests can even build their own strawberry shortcake or strawberry cones!
South 9th Street Italian Market- Philadelphia, PA
Our country's oldest outdoor market hosts its 101st annual festival on South 9th Street. After enjoying some delicious Italian food, be sure to watch the Annual Procession of Saints.
Craft-Phila- Liberty Bell Fair- Philadelphia, PA
Independence Mall comes alive with artisan vendors, food trucks, crafts and live music.
Saturday
Open Hive Days- Kennett Square, PA
Learn about the curious life of bees at New Leaf Eco Center.
Science Saturday- Philadelphia, PA
Fairmount Water Works presents its free weekly event in which children can learn about different scientific topics. This session's theme is All About Philly's Drinking Water. While you are there, take a tour but be sure to pre-register.
Family Stream Study- Devault, PA
Put on your water shoes for a morning of discovery at Great Valley Nature Center as families learn about all the critters that live in the stream.
Kensington Kinetic Sculpture Derby and Trenton Avenue Arts Festival- Philadelphia, PA
Watch kinetic sculptures (parade floats built around vehicles) as they wow the crowds in East Kensington.
Moonlight Walk- Doylestown, PA
Older kids can appreciate the beauty of the night during Peace Valley Nature Center's Moonlight Walk.
Sunday
Norristown Free Outdoor Concert- Norristown, PA
Pack a blanket and head to the Elmwood Park Bandshell for its first free concert of the season.
Wildflower Walk- Mont Clare, PA
Stop to smell the flowers during a walk at Lock 60 at Schuylkill Park.
Lenape Village Public Tours- Churchville, PA
Step back in time to the 1500s to learn about the Lenape people, their customs, their traditions and their way of life at Churchville Nature Center.
Tadpole Transformation- Gladwyne, PA
Riverbend Environmental Education Center offers a free opportunity to learn about tadpoles, pollywogs, toads and frogs, as well as their life cycle.
Photo courtesy of South 9th Street Italian Market