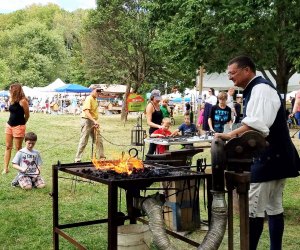 Weekend Fun for Philly Kids: Festivals, Trains, Grandparents' Day, Sept 9-10
With one week of school routine under the belts of many Philly families, it is time to savor some family time this weekend. Thankfully, there are plenty of choices that can be found in our event calendar. First off, there are a multitude of festivals featuring everything from fungi fun at the Mushroom Festival in Kennett Square, to art appreciation at Doylestown Art Festival, to historical fun at Chadds Ford Days. Train lovers in the family won't be disappointed. West Chester Railroad savors the last bit of summer during its Summer Picnic Train. Colebrookdale Railroad takes passengers to a vintage baseball game while folks at Greenbank Station can step back in time to Civil War days. Best yet, Thomas and Friends are riding the rails at Morris Arboretum all weekend long.
Don't forget to celebrate Grandparents' Day on Sunday. Treat grandma and grandpa to brunch at Franklin Square, or let them take the kids to visit a museum such as the National Museum of American Jewish History, or to Lorimer Park for a nature scavenger hunt.
With such a jam-packed event calendar, be sure to filter by age, tags, and location. Have a great weekend!
Weekend
Mushroom Festival- Kennett Square, PA
Families can expect children's rides, a baby photo contest, live music, a fried mushroom eating contest, and culinary demonstrations at this annual event held in downtown Kennett Square.
Chadds Ford Days- Chadds Ford, PA
Teach the kids a little history with a stop to The Barns Visitor Center. Children watch colonial demonstrations, tour the John Chads House, and experience Revolutionary reenactments.
Zippity Zoo Days- Wilmington, DE
During the Brandywine Festival of the Arts, the Brandywine Zoo celebrates Zippity Zoo Days with keeper talks and learning stations.
Hefty Harvest & Scary Scarecrows- Camden, NJ
Camden Children's Garden hosts a weekend filled with fun. Kids can make crafts, play games, and create their very own scarecrow (for an additional fee).
Doylestown Art Festival- Doylestown, PA
Live music, art, and food await families to downtown Doylestown at this rain or shine event.
Civil War Skirmish Weekend- Wilmington, DE
Take a train ride to see the site where Union and Confederate soldiers had a skirmish.
Saturday, September 9
PECO Second Saturdays- Philadelphia, PA
Head to Second Street Press to learn about printing at this free session which is open to the public.
Evening Expedition- Philadelphia, PA
Spend the night at Penn Museum and get to see what the exhibits look like after hours. Kids can expect games, crafts, and museum exploration.
Annual Wings N' Wheels- Blue Bell, PA
Visitors can learn about automotive and aviation history at Wings Field. Children and grown ups alike can expect to see antique cars, military aircrafts, and more.
Sunday, September 10
Family Day at the National Museum of American Jewish History- Philadelphia, PA
Bring Nana and Poppop to the National Museum of American Jewish History as it hosts free education programs, hands-on activities, and storytimes.
Nature Scavenger Hunt- Huntingdon Valley, PA
Be sure to pre-register to participate in Lorimer Park's Nature Scavenger Hunt.
Mexican Independence Day Festival- Philadelphia, PA
Head to the Great Plaza at Penn's Landing to be a part of PECO's Multicultural Festival Series. Guests can enjoy music, performances, and food.
Summer Picnic Train Rides- West Chester, PA
West Chester Railroad hangs on to the fleeting days of summer with special picnic train rides offered this Sunday and next.
Norristown Free Outdoor Concert Series- Norristown, PA
Don't miss the last free outdoor concert for the season at the Elmwood Park Bandshell. This concert features Music for Kids' Sake.
Photo courtesy of The Chadds Ford Historical Society