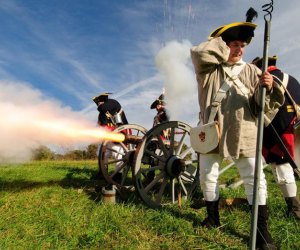 Weekend Fun for Philly Kids: Festivals, BBQ, Fireworks July 1-2
With a boom, a sparkle, and a sizzle, the first weekend in July unleashes its many patriotic celebrations, perfect for every Philly family.
Eat a traditional Fourth of July BBQ with Elmo, Zoe, and the gang from Sesame Street at Sesame Place. Or, indulge in a Red, White, and Blue BBQ Bash at Peddlers' Village. Visit the African American Museum in Philadelphia, National Constitution Center, Brandywine River Museum, or The Barnes Foundation for free. Celebrate our nation's birthday by stepping back in time to learn how to write with a quill pen or to see how soldiers lived during the Revolutionary War. End the weekend with firework fun at Ridley Park, Nottingham County Park, or Longwood Gardens.
Navigate through our event calendar by filtering for age, location, and tags. Now, keep reading for additional family fun.
All Weekend
Sand Sculpture Spectacular- Philadelphia, PA
Visitors to the Shops at Liberty Place can view the breathtaking, life size sand sculptures of famous Philadelphian historic icons through July 4th.
Fourth of July BBQ- Langhorne, PA
The gang at Sesame Place is ready to celebrate our nation's birthday with a traditional BBQ, Sesame style. Kids can make American flags in the craft station, too!
Backyard Adventure- Philadelphia, PA
Explore the Academy of Natural Science's latest exhibit entitled Backyard Adventures. Kids can participate in hands-on activities to learn about the world around them. Read our parent review before you go.
Bank of America Free Museum- PA and NJ
Both sides of the river offer free museum admission to a variety of venues courtesy of Bank of America.
Kutztown Folk Festival- Kutztown, PA
Take a ride to the Kutztown Fairgrounds for summertime fun. Learn about the traditions of the Pennsylvania Dutch, enjoy entertainment, and participate in children's activities.
Saturday, July 1
Independence Day Family Fun- Philadelphia, PA
Franklin Square offers many ways to celebrate this time of year. From mini-golf to carousel rides, much fun awaits families.
Free Admission to the African American History Museum- Philadelphia, PA
As part of the Wawa Welcome America celebration, families can visit the African American History Museum for free.
Toddler Time- Glen Mills, PA
Jump around and burn off energy at Sky Zone's Toddler Time especially for little ones. Be sure to remember your Sky Zone socks.
Freedom Fest- Nottingham, PA
Listen to a free concert and watch a fireworks display at Nottingham County Park.
The US Army Band "Pershing's Own" Concert and Firework- Philadelphia, PA
Find a spot at Great Plaza at Penn's Landing and sit back to enjoy the US Army Band play. Then, watch as the night sky bursts with red, white, and blue.
Ridley Park Fireworks- Ridley Park, PA
What better way to spend the evening than with fireworks at Ridley Park!
Sunday, July 2
Art Splash Family Festival- Philadelphia, PA
Philadelphia Museum of Art welcomes guests to explore Michael Nichols' exhibit Wild and listen to music by Frances England.
PNC Art Alive Family Program- Chadds Ford, PA
Celebrate Art & Nature during the Brandywine River Museum's free family event.
Red, White, and Blue BBQ Bash- Lahaska, PA
Kids' activities, family entertainment, and delicious eats await visitors at Peddlers' Village.
Freedom Blast- Philadelphia, PA
Learn about history at Fort Mifflin by watching canon demonstrations, taking tours of the grounds, and talking with re-enactors.
Photo of Fort Mifflin Facebook page