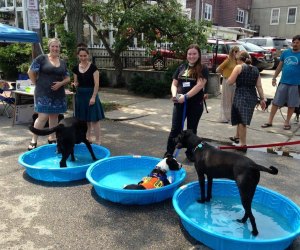 Weekend Fun for Philly Kids: Blueberries, Pirates, Pets July 8-9
All Weekend
Hispanic Fiesta- Philadelphia, PA
Music, dancing, entertainment, and food awaits festival goers visiting the Great Plaza at Penn's Landing all weekend long.
BlueBeary Blast & Celebration- Camden, NJ
Did you know that New Jersey's state fruit is the blueberry? Learn about this delicious summertime berry, make crafts, and more at the Camden Children's Garden.
Saturday, July 8
Blueberry Festival- Media, PA
Pick your own blueberries, pose for pictures with costumed characters, try your luck at the dunk tank, and participate in a pie-eating contest at Linvilla Orchards.
PECO Second Saturdays- Philadelphia, PA
Learn about the printmaking process during this free programming at Second State Press.
Pirates, Spies, and Rogues- Newtown Square, PA
Shiver me timbers! Learn about pirates, spies, and rogues at the Colonial Pennsylvania Plantation located at Ridley Creek State Park.
Bird Walk- Doylestown, PA
Explore Peace Valley Nature Center in search of feathered friends.
Try Science- Wilmington, DE
Kiddos interested in science, and in particular animals, are sure to love this workshop held at the Delaware Children's Museum. The featured theme is Ornithologist, the branch of zoology that studies birds.
Princeton Summer Theater Presents "Amelia Earhart Forever"- Princeton, NJ
Especially for young audiences, this Princeton Summer Theater production features the story of Amelia and her plane as they explore the world.
Sunday, July 9
Summer Picnic Train- West Chester, PA
Make a summertime memory aboard the West Chester Railroad. Travelers can either pack a lunch or purchase one onboard.
PECO Family Jams- Philadelphia, PA
Tour the Philadelphia Magic Gardens and make a craft during its family-friendly monthly event. The featured activity is monoprint banners.
Pennridge Community Day- Perkasie, PA
Families can expect canoe rides, hay rides, watermelon-eating contests, and a baby parade at this year's Pennridge Community Day held at Lenape Park.
Petapalooza- Philadelphia, PA
Celebrate four-legged friends at Chestnut Hill's Petapalooza. Furry friends can expect doggie pools, paw readers, and pet caricaturists.
Elfreth's Alley Second Sunday- Philadelphia, PA
Get a history lesson along the nation's oldest residential street. Children can go on a scavenger hunt and take selfies while dressed in 18th century colonial clothing.
Sunday Studio- Wilmington, DE
Budding artists can enjoy the Drawing Big & Bold programming at Delaware Art Museum.
Photo of Petapalooza Chestnut Hill Facebook page