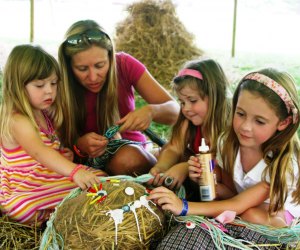 Weekend Fun for Philly Kids: Apples, Scarecrows, Festivals September 16-17
It may already be the middle of September, but fall doesn't technically begin until next week. However, our event calendar is certainly showing signs of the change in season. From apple-picking to scarecrow-making, Philadelphia families can anticipate lots of fall-themed fun this weekend.
Head to Linvilla Orchards for its annual Arts, Crafts, & Music Festival. Kids can enjoy roaming through the corn maze, taking a pony ride, or picking apples. Speaking of apples, The Market at DelVal's Apple Fun Days offers families another opportunity to pick their own apples as well as inflatable fun and crafts for the kids. Those who enjoy hands-on activities can take a trip to Peddler's Village for its annual Scarecrow Festival and build their very own scarecrow. Interested in seeing a theatrical performance this weekend? Hedgerow Theater presents Storybook: Treasure Island while The Sedgewick Theater features Aesop's Fables. Or, experience storytelling at its finest during the 25th Annual New Jersey Storytelling Festival.
Get a jumpstart on planning your fall bucket list by checking out our newest posts featuring Fall Festivals, Corn Mazes, and Fall Train Rides. Or visit our Fall Fun Guide for even more seasonal fun. For now, keep reading about all the fun that is in store this weekend.
Weekend
Arts, Crafts, & Music Festival- Media, PA
All weekend long, visitors to Linvilla Orchard can jam to live music and view crafts created by local artisans. While at the festival, be sure to check out Pumpkinland which features pick-your-own-apples, a corn maze, pony rides, pumpkin ring toss, face-painting, and train rides.
Scarecrow Festival- Lahaska, PA
Head to Peddler's Village to view the amazing scarecrow displays. Families can create their very own scarecrow during a special workshop, participate in a pumpkin pie-eating contest, paint pumpkins, and listen to live entertainment.
Apple Festival- Robbinsville, NJ
Visit Oasis Family Farm to take a wagon ride, make sand art, and taste sweet apple treats during this weekend festival. It is important to note that there are no pick-your-own-apple opportunities this weekend.
Aesop's Fables- Philadelphia, PA
Quintessence Theatre Group takes the stage at The Sedgwick Theater as they perform Aesop's Fables, stories that were passed down from generation to generation offer a lesson to learn for audiences.
Storyboard: Treasure Island- Media, PA
Experience the adapted story inspired by Jack Sparrow and the rest of the characters from Treasure Island at Hedgerow Theatre.
Centuries of Childhood: An American Story- Doylestown, PA
It's opening weekend for this new exhibit at Mercer Museum. Through this exhibit, visitors to the Museum learn about the way of life of five fictitious children: an Iroquis girl, a Colonial apprentice, a pioneer girl, a Jewish boy, and an African American child. Kids can paddle a boat, explore an immigrant ship, and practice early trades.
Saturday
¡Fiesta!- Philadelphia, PA
Celebrate National Hispanic Month with a fiesta at Please Touch Museum. Children can listen to live music, make crafts at the art station, create jewelry, and march in the "End of Day" parade.
Bookworms- Philadelphia, PA
Arden Theater welcomes little ones to get a taste of the theater with this special workshop. This session features the book, Caps for Sale by Esphyr Slobodkina.
Family Overnight Campfire- Mount Laurel, NJ
Pack up a tent, sleeping bag, and flashlight for an overnight experience at Paws Discovery Farm. In addition, campers can expect a campfire, marshmallows, and songs. Participants must register in advance online.
Annual New Jersey Storytelling Festival- Hamilton, NJ
Children and adults alike delight in the lively and expressive storytellers at the Howell Living History Center.
Sunday
Phillies Grandparents' Day- Philadelphia, PA
Take Grams and Pop to see a ballgame at Citizens Bank Park. The first 1,000 people to use the promotional code GRANDPARENT when purchasing tickets receive an exclusive Phillies Grandparents Day giveaway.
Faerie Fest- Wilmington, DE
Be sure to put on your fairy wings or dress as a pirate, gnome, princess, or superhero and head to Rockwood Park for this enchanted festival. Children can expect stories, games, bubbles, art projects, ballet performances, and other magical activities.
Fall Mill Festival- North Wales, PA
Step back in time with a visit to Evans-Mumbower Mill. Tour the grist mill and see demonstrations such as corn husk doll making and tin smithing.
Mt. Airy Village Fair- Philadelphia, PA
Family-friendly music, pie and ice cream eating contests, a farm animal petting zoo, a pet parade, and plenty of children's activities await festival goers to Mt. Airy Village.
Artsy Afternoon Drop-In- Schwenksville, PA
Channel your inner artist by spending the afternoon using your imagination and creativity at Engage Art Studio.
Photo courtesy of Scarecrow Festival at Peddler's Village