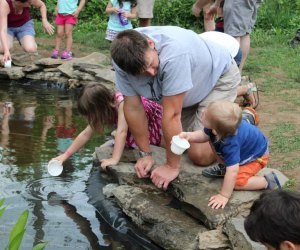 Weekday Picks for Philly Kids: Summer Solstice, Museum Deals, Bugs June 19-23
Summer officially arrives this week in Philadelphia! What better way to celebrate the new season than with some of the amazing activities found in our event calendar.
To recognize the longest day of the year, Riverbend hosts its Summer Solstice Celebration complete with live animal demonstrations, puppet shows, and pond exploration. Wolf's Hollow County Park offers the chance to participate in a Summer Solstice Hike. And, Delaware Art Museum allows visitors to wander about and take in the beauty of nature at its Summer Solstice Labyrinth. In addition to summertime events, many venues throughout the Delaware Valley are featuring deeply discounted admission such as the Franklin Institute, the Brandywine Zoo, and the Delaware Children's Museum. Once nighttime arrives, view landmarks such as Glencairn Museum, Cairnwood Estates, and Bryn Athyn Cathedral set aglow, or see the first flashes of lighting bugs at Green Lane Park.
Keep reading for our top picks for the week and get ready for a great summer!
Monday, June 19
David Roger's Big Bugs- Media, PA
Larger than life ants, dragonflies, and spiders await visitors of Tyler Arboretum. These works of art, created by artist David Roger, remind young and old alike how incredibly important insects are to the environment.
Tuesday, June 20
Fun in the Sun Safety- New Hope, PA
Children and grown-ups can prepare to have a fun-filled, yet safe summer with helpful tips courtesy of Doylestown Health at Bucks County Children's Museum. This program is free with paid museum admission.
Wednesday, June 21
Summer Nights Concert Series- Philadelphia, PA
Penn Museum kicks off Summer 2017 with an outdoor concert featuring The Mid East Ensemble. Concert admission includes access to the museum.
Thursday, June 22
St. Joseph's Church Carnival- Downingtown, PA
Play games, go on rides, and eat fun foods at the annual carnival held at St. Joseph's Church.
Friday, June 23
Lightning in a Jar- Green Lane, PA
Bring a non-breakable container to Green Lane Park and see how many fireflies you can gather at this free event. Don't forget to register in advance.
Photo courtesy of Riverbend Environmental Education Center