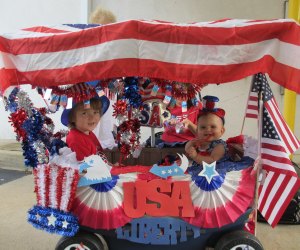 Weekday Picks for Philly Kids: Picnics, Parades July 4-8
Monday, July 4
Independence Day Parade- Philadelphia, PA
Find a spot along Chestnut, 9th, or Market Streets in Center City to enjoy this holiday parade. Spectators can expect to see Ben Franklin, Betsy Ross, John Adams, Miss Pennsylvania, Miss Delaware, Miss New Jersey, the Girls Scouts of America, string bands, gospel choirs, firefighters, and more.
Tuesday, July 5
Terrific Tuesdays- Wilmington, DE
When families explore Henry Francis du Pont's Winterthur on Tuesdays in July and August, children can participate in educational activities. The best part is adults are free accompanying a paying child.
Wednesday, July 6
Plymouth Township Movie Series- Plymouth Meeting, PA
Who ya gonna call? Ghostbusters, of course! It's the free featured outdoor movie at the Amphitheater at the Community Center, perfect for tweens.
Thursday, July 7
Museum Explorers- Chadds Ford, PA
Visit the Brandywine River Museum as it launches its Museum Explorer series. Children can expect to learn about the exhibits in the museum and make a craft as well.
Friday, July 8
Southampton Days- Southampton, PA
Be sure to check out the rides and games at Southampton Fairgrounds between Tamanend Park and Klinger Middle School. Admission is free and parking is only $2 Tuesday through Saturday.
Photo courtesy of Southampton Days' Facebook page.