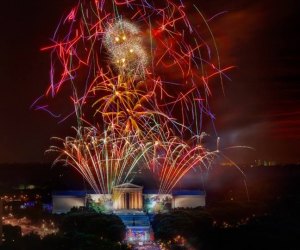 Weekday Picks for Philly Kids: Parties, Parades, Fireworks July 3-7
The 4th of July holiday week is upon us! From parties and parades to firework displays and non-firework alternatives, Mommy Poppins Philadelphia can help you make the most of this special summer holiday.
It is our country's birthday after all so why not begin with a party? Philadelphia's Historic District's Block Party provides children's activities such as wheelbarrow races and bubble blowing, America's Birthday Party with Betsy Ross allows guests to share cupcakes with Betsy Ross, and Party on the Parkway features ziplines, animal encounters, and a free concert by KIDZ BOP Kids. Take part in an all-American tradition and line up to see a 4th of July parade in Glen Mills, Radnor, Aldan, or Center City. After partying and parade-watching, lace up your running shoes to burn off the extra BBQ calories with a celebratory Firecracker, Bottle Rocket, or Sparkler Run at the Market at DelVal.
If your crew is heading to the shore, check out the Cape May Carnival, Stone Harbor Family Fun Night, or Wildwood Movies on the Beach.
With so many options, be sure to use the filter in our event calendar to search by age, location, and tags. Happy 4th everyone!
Monday, July 3
Upper Darby Show and Fireworks Celebration- Drexel Hill, PA
Celebrate our country's independence at this show featuring Chico's Vibe and Upper Darby Shooting Stars. Afterwards, sit back and enjoy the fireworks display.
Tuesday, July 4
Wildwood 4th of July Fireworks, Concert, and More- Wildwood, NJ
If you are lucky enough to be at the shore, celebrate the 4th with a parade in the morning and fireworks at night.

See all Tuesday's events
Wednesday, July 5
World Wonders- Philadelphia, PA
Explore different cultures at Penn Museum during its session featuring Daria's World Music.
Thursday, July 6
Museum Explorers- Chadds Ford, PA
Visitors to the Brandywine River Museum can select from one of two times and enjoy learning about the Museum in a hands-on workshop.
Friday, July 7
First Friday Family Swim Night- Philadelphia, PA
Put on your bathing suit and head to Fitness Works for a splashing good evening of pool fun.
Photo courtesy of Wawa Welcome America Facebook page