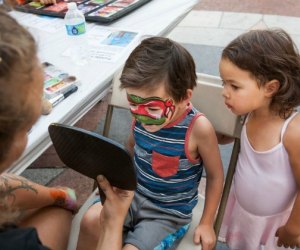 Weekday Picks for Philly Kids: Nature, Storytime, Fall Fest September 11-15
Moms, Dads, and kids alike can enjoy the fun that September brings throughout the Delaware Valley. Philly families can carve out time for some semi-spontaneous fun between school days and extracurricular activities with the amazing opportunities found in this week's event calendar.
Take the baby for a stroll through The Philadelphia Museum of Art, or have baby in tow while watching a grown-up movie at The Colonial Theatre. Engage toddlers in learning about the world around them with nature encounters at Briar Bush Nature Center. Little ones can pause for storytime among the animals at The Brandywine Zoo or in the Outdoor Children's Classroom at Morris Arboretum. Children who are homeschooled can dive into the topic of aquatic ecosystem exploration at Bartram's Garden. End the week by taking the entire family to Spruce Street Harbor Park for its Fall Fest or by watching the horses at the Devon Fall Classic.
Stay connected with Mommy Poppins Philadelphia on Instagram, Facebook, Twitter, and Pinterest. Now, keep reading to see all the fun that awaits!
Monday, September 11
Free Trial Week at The Creative Living Room- Wallingford, PA
Register in advance for a free chance to experience one of the many types of classes offered at The Creative Living Room. Kids can try yoga, art classes, STEAM labs, martial arts, and more. Trial classes are held from September 11th through September 17th.
Tuesday, September 12
Storytime for Families- Kennett Square, PA
Take a ride to Longwood Gardens for its preschool storytime sessions held at Lookout Loft Treehouse. Afterwards, wander the grounds to see the indoor Children's Garden, Topiary Garden, Peirce's Park, and of course, the fountains.

See all Tuesday's events
Wednesday, September 13
Magic Mornings- Abington, PA
Young ones can learn about nature during Briar Bush Nature Center's Magic Mornings sessions. Each week, a different theme is shared through stories, crafts, and hikes throughout the Center.
Thursday, September 14
Fall Fest- Philadelphia, PA
Spruce Street Harbor Park kicks off its 10-day Fall Fest. Visitors can expect lots of free family entertainment such as live music, apple cider pressing, a petting zoo, and pumpkin carving.
Friday, September 15
Free Outdoor Movies- Doylestown, PA
As the sun sets, families can make their way to Central Park in Doylestown to watch a free movie. This session's featured film is Pete's Dragon courtesy of Pennoni.
Photo courtesy of Spruce Street Harbor Park from The Delaware Riverfront Water Corporation