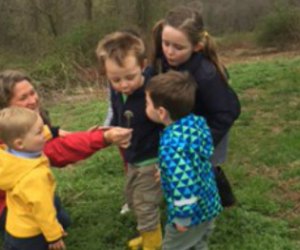 Weekday Picks for Philly Kids: Nature, Stories, Vacations May 23-27
It is hard to believe that this is the last week before the unofficial start of Summer 2016. Savor these moments of springtime bliss by embracing some of the many activities found in our Events Calendar.
This week, there are a variety of opportunities for outdoor play. Visit Tyler Arboretum for Tyler Tales, Briar Bush Nature Center for Magic Mornings or Bucktoe Creek Preserve for Drop-In on Nature Playgroup. Or, consider visiting a local county park. Then, listen to stories at Barnes and Nobles, Delaware Museum of Natural History or Philadelphia's Central Library.
However, if you are just realizing that you still need to plan your family's summer vacation, browse through our entire Mommy Poppins site. It offers a wealth of information on New York City, Long Island, Westchester NY, Boston, Connecticut, Los Angeles and even our neighbor to the east, New Jersey. Also, be sure to complete our Mommy Poppins survey to enter to win a family trip to Punta Cana. Vacation time is just around the corner!
Monday, May 23
Baby Birds- East Norriton, PA
Little ones can learn how mama and papa birds take care of their babies at Norristown Farm Park.
Tuesday, May 24
Sprout and Seedlings- Camden, NJ
Take a ride to Camden Children's Garden for a special workshop featuring Colors in the Garden.
Wednesday, May 25
Magic Mornings- Abington, PA
Briar Bush Nature Center is set to help young children discover the outdoors through hikes, stories and crafts.
Thursday, May 26
Devon Horse Show and Country Fair- Devon, PA
Everyone can enjoy plenty of entertainment at the Devon Horse Show Grounds. In particular, families with children who attend on Family Days can expect children's activities, food specials and souvenirs.
Friday, May 27
Thompson Performing Arts- Doylestown, PA
Kick off the unofficial first weekend of summer with Thompson Performing Arts series held at the Convenant Bank Amphitheater. Audiences can expect performances from CBSD students in the Y2C program.
Photo courtesy of The Land Conservancy for Southern Chester County