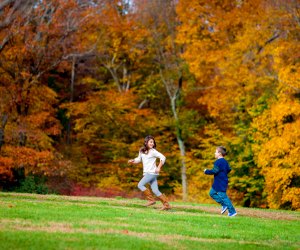 Weekday Picks for Philly Kids: Nature, Art, Free Fun September 25-29
Despite the hot and humid weather, it technically is the first official full week of autumn. As the leaves begin to turn into hues of red, gold, and orange and cooler air blows in (hopefully sooner than later), Philly families can fill these fall days with lots of fun found in our event calendar.
Outdoorsy types can spend time in nature with a day trip to Pumpkinland or an evening visit to the Witches' House by hayride both at Linvilla Orchards. Wander about the grounds of Longwood Gardens and view the Summer of Spectacle as it concludes this week. Head to The Land Conservancy of Southern Chester County where kids can participate in a variety of outdoor activities or stop by Tyler Arboretum for a cooking workshop featuring apples. Those looking for a creative outlet can make arts and crafts at Monkey Fish Toys' free drop-in sessions in Exton or West Chester as well as Chester County Art Association's free Mommy and Me classes or classes for children 4 and older held at Exton Square Mall. Love computers? School-aged children up through teens can visit South Philadelphia Library to participate in its Gaming! event while girls ages 12-14 can design mobile apps at AWeber Communications.
Fill your family calendar with fall fun such as apple and pumpkin picking, corn maze fun, and autumn train rides. For now, continue reading for our top picks for the week.
Monday, September 25
Parenting S.O.S.- Tame Those Tantrums- Philadelphia, PA
Does your little one throw temper tantrums? This workshop held at Lume Creative Learning Studios is ready to offer parenting advice in an effort to help families deal with these childhood outbursts.
Tuesday, September 26
Game-a-Palooza!- Philadelphia, PA
Head over to the Free Library of Philadelphia's Central Parkway location for an afternoon of game fun. Geared towards children ages 4 through 12, these games help kids with social skills as well as balance and coordination.

See all Tuesday's events
Wednesday, September 27
Chester County Art Association Mommy and Me- Exton, PA
Be creative at this free art class compliments of the Chester County Art Association at Exton Square Mall. Mothers and their children under 5 can participate in these weekly drop-in sessions. This session features a tree theme. For kids over 4 years of age, consider the fall leaves or watercolor resist workshop.
Thursday, September 28
Drop-In on Nature Playgroup- Kennett Square, PA
Explore the outdoors at the Land Conservancy of Southern Chester County. Guests 5 and under along with their caregivers can expect scavenger hunts, birdwatching, crafts, and more. Be sure to register in advance as space is limited.
Friday, September 29
Glory of Stories- Wilmington, DE
Young ones can delight in storytime at the Delaware Art Museum. This week's featured book is Babar's Museum of Art by Laurent De Brunhoff.
Photo courtesy of Visit Bucks County Pennsylvania