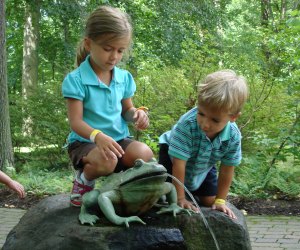 Weekday Picks for Philly Kids: Music, Nature, Movies August 28-September 1
This time of year is filled with mixed emotions. Those that enjoy the freedom of summer with its lack of schedule are sad to see it go. But many parents (and some kids) are ready for the school year to return. As summer slowly comes to a close, make the week ahead memorable with the amazing experiences found in our events calendar.
Music lovers have many options. Learn how to play a ukulele at Fumo Library or listen to the sweet strum of the guitar at Wissahickon Library. Check out a drop-in class with Music Monkey Jungle at Old Pine Community Center, The Children's Boutique, Momo's Treehouse, or Tildie's Toy Box. Rock out at a concert at Philadelphia City Institute's Summer Concert Series, Penn Museum's Summer Nights Concert, or The Market at DelVal's Wine Concert.
Kids interested in science and nature can wander through the Enchanted Woods at Winterthur, explore the exhibits at the Delaware Museum of Natural History during its last Two Dollar Tuesday event, and be mesmerized by the fountain shows at Longwood Gardens. Don't forget to stop by Tyler Arboretum to say goodbye to the Big Bugs exhibit which concludes Tuesday. Save some time to chill out with a movie at Queen Memorial Library, The Colonial Theatre, or FDR Park.
Since September is just around the corner, be sure to plan a month full of fun with new, interesting, and unusual experiences. For now, keep reading and make it a great week!
Monday, August 28
Ukulele Jam- Philadelphia, PA
If there is a young music lover in your house, visit Fumo Library for this free opportunity to jam with the beat. If you don't have a ukulele of your own, one can be borrowed from Parkway Central Library.
Tuesday, August 29
Terrific Tuesdays- Wilmington, DE
Explore the Enchanted Woods at Winterthur during Terrific Tuesdays. In addition to deeply discounted admission, children can expect to cross the Troll Bridge, peek in the Faerie Cottage, climb into the Bird's Nest, and have an imaginary tea party in the Acorn Tearoom. Featured activities help children learn about the difference between inside and outside.

See all Tuesday's events
Wednesday, August 30
Going Gaga- Bryn Mawr, PA
Want to watch a movie but can't get a sitter for your infant? Visit Bryn Mawr Film Institute for a baby-friendly matinee.
Thursday, August 31
Nature in the Park- Philadelphia, PA
Learn about science, history, and nature at Sister Cities Park. Children can expect a fun-filled hour presented by the Academy of Natural Sciences featuring the theme, Summer Fun.
Friday, September 1
First Friday Family Swim Night- Philadelphia, PA
Bring the whole family for some water fun at Fitness Works. In addition to playing in the pool, guests can participate in other activities such as dancing, crafts, and storytime.
Photo courtesy of the author at Winterthur Museum, Gardens, & Library