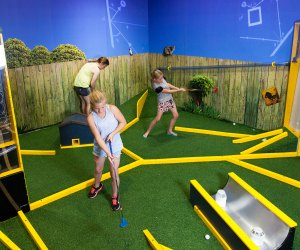 Weekday Picks for Philly Kids: Museums, Ant Picnic, Puss in Boots, July 10-14
During the humid days of July, Philly families may be looking for ways to keep their minds off the heat. Whether it's cooling off at a splash pad or finding some A/C at a local museum or mall, there are many ways to make the most of the week ahead with activities found on our event calendar.
Spend some time indoors to learn something new. At The Academy of Natural Sciences' brand new exhibit, Backyard Adventures, kids can play indoor mini-golf, build with tools, and try to pollinate flowers. The Philadelphia Museum of Art offers its latest exhibit which features the amazing photography of Michael Nichols. Check out a $1 indoor movie, see a magic show that keeps audiences laughing, or go to a kid-friendly theater production. Once the sun begins to set, venture outside to eat a picnic among the bigger than life ants at Tyler Arboretum, play carnival games at the Malvern Fire Company Carnival, or see an outdoor movie at Wentz Park or Leeland Park.
Plan out all your fun by browsing through our event calendar. Stay cool!
Monday, July 10
$1 Children's Summer Series- Upper Darby, PA
All week long, kids can enjoy the movie, Kung Fu Panda, while parents can enjoy the deeply discounted ticket price.
Tuesday, July 11
Young Audiences at The Colonial Theatre- Phoenixville, PA
Looking for something different to do this week? See an entertaining magic and comedy show featuring Craig Collins.

See all Tuesday's events
Wednesday, July 12
Family Fun Night- Wilmington, DE
See a variety of mammals, birds, and reptiles, play games, and participate in special activities during the Brandywine Zoo's Family Fun Night. Best of all, admission is only $1.
Thursday, July 13
Puss In Boots by Family Stages- Ambler, PA
Two actors play all of the characters in this production performed by Family Stages at the Ambler Theater.
Friday, July 14
Live Jazz Fridays- Philadelphia, PA
Experience the sweet sounds of jazz tunes during this free, live concert held at Cedar Park.
Photo courtesy of Imagine Exhibitions, Inc. for The Academy of Natural Sciences