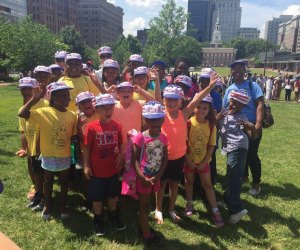 Weekday Picks for Philly Kids: FREE Fun, Wawa Welcome America June 26-30
With the arrival of summer, Philly parents may be wondering how to keep children engaged in fun without breaking the bank. This week's top picks are all FREE and are sure to put a smile on your face and your wallet.
First, stop into your local library for free programming such as Parkway Central Library's Baby and Toddler Story Time, Wissahickon Library's Guitar Story Time, Fumo Family Library's Mindful Meditation, or Media Library's Captain Underpants Party. Then, make crafts at Linvilla Orchards or Monkey Fish Toys. Dance and sing along at a free outdoor concert at White's Road Park, Debarth Amphitheater, or Narberth Park. Best yet, Wawa Welcome America arrives in town this week! During the festival, young and old can take advantage of free museum admission, Go 4th learning opportunities, and free hoagies, too.
However you spend the week, keep it fun and keep it free! Read on for additional no-cost activities below.
Monday, June 26
Captain Underpants Party- Media, PA
Fans of the Captain Underpants book series are sure to enjoy this celebration at Media-Upper Providence Free Library. Be sure to register in advance to participate.
Tuesday, June 27
White's Road Park Concert- Lansdale, PA
Find a blanket and pull up a chair to enjoy a live concert at White's Road Park. This week's featured artist is the Craig Thatcher Band.

See all Tuesday's events
Wednesday, June 28
Teen Summer Volunteer Days- Gladwyne, PA
Instill the value of giving back during this teen volunteer opportunity at Riverbend. From mulching to weeding to cutting back invasive shrubs, volunteers work to keep the grounds in tip-top shape.
Thursday, June 29
Wawa Hoagie Day- Philadelphia, PA
Recognize our troops and local heroes at this Wawa Welcome America event. Then, feast on hoagies compliments of Wawa, Inc.
Friday, June 30
Movies in Black Rock Park- Phoenixville, PA
As the sun sets, families can gather at Black Rock Park to watch the family favorite, Pete's Dragon.

See all Friday's events
Photo courtesy of Wawa Welcome America Facebook page