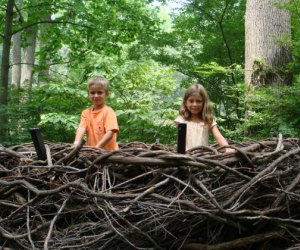 Weekday Picks for Philly Kids: Culture, Storytimes, Nature June 5-9
From toddlers to teens, the curiosity of a child is difficult to contain. Philly parents can engage their kids' varied interests with activities found in this week's event calendar.
Explore a new culture at the Philadelphia Chinese Lantern Festival or American Swedish Historical Museum. Delve into the world of books at free storytimes held at Barnes and Noble, Pottery Barn Kids, and The Doylestown Bookshop. Investigate birds, gardens, and camouflaged animals in nature. Identify your superpower, grab a your favorite cape, and fly over to the Garden State Discovery Museum for its Superhero Celebration. Or, splurge by seeing The Rock School's Showcase, Carnival of Birds. Now, keep reading to see our top picks for the week ahead.
Still looking for a summer camp? Check out LocoSummer Innovations on the Main Line and in Center City. Children can engage in robotics, drone science, and more! Get $75 off by using promo code: POPPINS.
Monday, June 5
Sensory Storytime- Philadelphia, PA
Geared towards children who are on the autism spectrum or have sensory processing issues, this special storytime develops literacy and social interaction with stories, songs, and activities.
Tuesday, June 6
WOW! Wee Ones at Winterthur- Wilmington, DE
Children ages 3-5 enjoy music and movement with themes related to Winterthur Museum, Gardens & Library.

See all Tuesday's events
Wednesday, June 7
Little Explorers Toddler Program- Philadelphia, PA
Young ones can visit Bartram's Gardens for a lesson in nature. Children walk through the gardens, participate in activities, and learn about the world around them. This session's theme is The Garden in Bloom.
Thursday, June 8
Story Playgroup- Philadelphia, PA
Parents of little ones two and younger can drop by one of three locations in the city for this interactive session. Babies can explore age-appropriate manipulative play while walkers engage in sensory stations.
Friday, June 9
Full Moon Owl Prowl- Avondale, PA
Nature lovers learn about the many species of owls that inhabit Bucktoe Creek Preserve. Participants keep a close ear out to hear the screeches of barred owls, great horned owls, and others.

See all Friday's events
Photo courtesy of the author