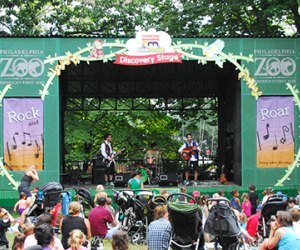 Weekday Picks for Philly Kids: Concerts, Flag Day, Fireflies June 13-17
Monday, June 13
Camp Creativity- Your town, PA
Michael's locations throughout the Delaware Valley offer a variety of crafts at their Camp Creativity workshops.
Tuesday, June 14
Rock 'N' Roar Children's Concert- Philadelphia, PA
Kick off the Philadelphia Zoo's summer concert series and jam with Steve Pullara and the Cool Beans Band.
Wednesday, June 15
Riverdance- Philadelphia, PA
Enjoy Irish music and dance at the Academy of Music. Riverdance takes the stage in Philadelphia for its 20th anniversary tour.
Thursday, June 16
Kids Crew- Springfield, PA
Drop by Springfield Mall's Center Court for Kids Crew. This session features arts and crafts presented by the Community Arts Center of Wallingford.
Friday, June 17
Disney's The Little Mermaid- Philadelphia, PA
Go under the sea and experience The Little Mermaid on stage at St. Joseph's University's Bluett Theater.
Photo courtesy of Philadelphia Zoo