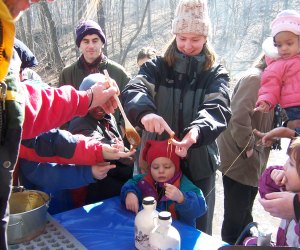 Pennsylvania Maple Sugaring Season Events
It's maple sugaring season! And, if you have ever wondered what all the fuss was about when it comes to the run-of-the-mill syrup versus the true-blue maple, now is your chance to find out. The official tree-tapping season kicks off in February, but sugarings and tastings run through March across the state of Pennsylvania. Our list consists of demos in which visitors can watch an actual tree tapping to day-long experiences including syrup tasting to weekend festivals. Many are local events but some could require an overnight. Keep reading to check out what the syrup season has to offer!
And take advantage of the final weeks of winter with our Winter Activities Guide. Looking forward to the new warmer season? Find fun things to do around Philly with our Spring Activities Guide!