Philly Skateboard Parks That Young Skaters Will Love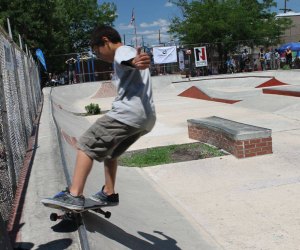 There's no doubt about it; the city offers plenty of events and activities to keep kids entertained and busy over the summer. If you've got a skater in the house, here's a roundup of the area's most kid-friendly parks where they can go this summer to shred, cruise around, and watch experts go to town. Park regulars agree that morning is the best time of day to bring young or novice skaters, as it's less crowded. Weekdays are better than weekends, of course. And, if the park does get too packed, no worries--watching the older, more seasoned skaters do their thing is really fun, too.
Philly skaters are incredibly lucky to have Franklin's Paine Skatepark Fund, an organization dedicated to building and maintaining free, innovative skateboard parks around the city and outskirts. To date, they have contributed to 8 parks, with 4 proposed parks in development. FPSK also runs a Gear for Groms program, connecting young skaters (groms) to everything they need from deck to pads, and offering lessons at designated parks. All but 2 of the parks are within city limits; Ambler and Patrick Kerr Memorial are both about a 40-minute drive from Center City. One note: while FDR Skatepark is undeniably unique and a huge part of Philly skate culture, regulars warned that "it's not the best park for kids." With all of the other great parks available around town, I heeded the advice and omitted it from the list below.
Paine's Park
Since May of 2013, Paine's Park has been a popular spot for skaters and spectators. Tucked along the banks of the Schulykill River across from the Museum of Art, the park is a mix of "street" and "transition" obstacles.
Pop's Park
Once an abandoned playground and roller hockey space that locals used to skate in, East Kensington parents and neighbors united to help make Pop's a legit park in 2009. Small transitions that are easy to learn on make Pop's a kid favorite.
McCreesh Playground
Another abandoned outdoor hockey rink transformed into a thriving skatepark, young locals were even invited to attend the development meetings for McCreech, making it a true, community effort. The park opened in the summer of 2011.
Grays Ferry Crescent
This unique park opened in 2013, and includes 3,000 square feet of transition obstacles with really cool views of the Schuylkill River. It's close to University City and the Schuylkill Banks.
Patrick Kerr Memorial
This park began as Roslyn Skatepark in 2001 as a joint effort by the Abington Township Parks and Recreation Department and community members. It was renamed in 2003 following the tragic death of the park's biggest advocate, Patrick Kerr, and revamped over the years with the help of FPSF. It's now a beautiful park with street and transition obstacles, popular with locals and visitors alike. Unlike some parks, Patrick Kerr does require the use of helmets and pads. It's located outside the city in Abington, PA.
Ambler
Another mix of street and transition, this popular park opened in September 2011 in Ambler's Knight Park.
Whitehall
For a skatepark in the Northeast, head to Whitehall in the Frankford area. The park began in 2010 and includes many transition obstacles, including a 45' long half-pyramid.
Wherever your grom chooses to shred, be careful and have fun!
Photo courtesy of Franklin's Paine Skatepark Fund on Facebook.