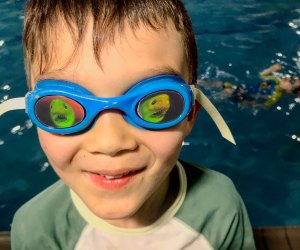 8 Great Spots for Swim Lessons in the Philadelphia Area
Let's face it, when it comes to parenting and scheduling, we have a list of programs and activities that are just for fun, and then we have our serious list. This is the list that takes precedent, and the events we plan our lives around. At the top of that list for many parents is learning to swim.
With such a robust swim culture in Philadelphia—from amazing public pools to frequent trips to lakes or the shore and beyond—making sure your little one is comfortable and confident in the water is a key milestone. Finding the right swim instructor and facility for your family is essential. Whether you want to start with parent-child lessons, think private lessons are best for your child, or you have a budding swimmer who is ready to be part of group lessons, there are some terrific options in the Philadelphia-area. Here is our roundup of the best!
Swim Lesson Facilities in Philadelphia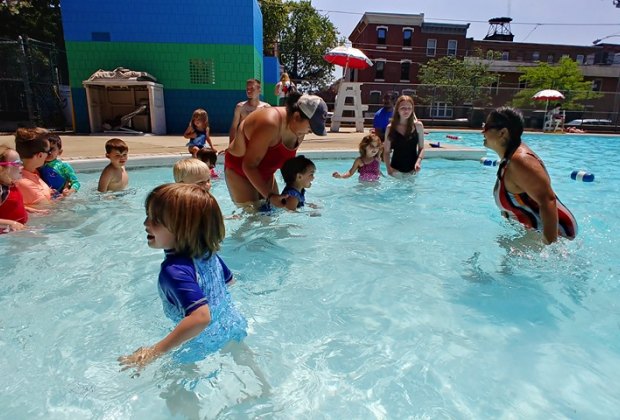 Outdoor swim lessons get kids ready for the water when they're going to be in it the most. Photo from Kids on 12th.
Kids on 12th: Philadelphia Kids Club—Philadelphia, PA
This amazing summer camp and preschool also offers swim lessons for both children and adults at the outdoor pool during swim season. They also offer Saturday classes at the Friends Select School. Lessons are offered in small groups or by private instruction.
Markward Playground—Philadelphia, PA
Free public swim lessons are offered Monday, Wednesday, Thursday, and Friday at the O'Connor Pool. Check the calendar and call for scheduling lessons for your child.
Fitness Alive—Philadelphia, PA
Fitness Alive works with both children and adults to build confidence and encourage growth. Swim lessons begin with parent-child classes, and private or small group swim instruction is available in two Philadelphia locations. The program is so popular it is hard to get into as slots fill up quickly, but once you register you also get the opportunity to grab open slots when cancelations occur.
Swim Lesson Facilities in the Philly Suburbs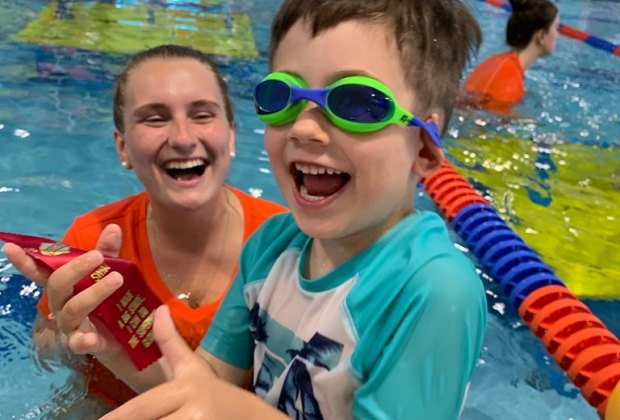 Serious learning also means serious fun at Goldfish Swim School. Photo from Goldfish Swim School in Malvern.
Goldfish Swim School—Various Locations in PA and NJ
With swim lessons offered year-round, Goldfish is one of the most popular swim schools in the area. Lessons begin as early as 4 months, and group lessons are kept at a 4:1 maximum student-to-teacher-ratio. If you have a big swim trip coming up, Goldfish also offers intensive clinics with four to five consecutive days of lessons to jump-start or boost your little one's skills.
Aqua-Tots Swim School of Horsham—Horsham, PA
Aqua-Tots Swim School is a year-round facility with a motto of "Safety First, Fun Every Second." They offer private, semi-private, and group lessons at a 4:1 student-to-teacher-ratio. In addition to lessons that begin at 4 months, they offer adult and special needs lessons as well.
Greater Plymouth Community Center—Plymouth Meeting, PA
Another great spot for year-round swim lessons, the Community Center offers baby-and-me classes beginning at 6 months and serves children with lessons as they grow into their skills as a swimmer.
Hatfield Aquatic Center—Hatfield, PA
With a program that is developmental in nature, swim lessons are less age-based and more centered on the building blocks - from the fundamentals to advanced. Classes include swim and dive instruction, aquatic exercise, stroke refinement, and survival swimming for children. What is really interesting about this program is participants move to the next level at their own pace, whether it is days or weeks. Group and private lessons are offered for ages 3 and up. Parent-infant classes are also available.
Menlo Aquatics Center—Perkasie, PA
Locally known as the MAC, with three pools available you can have fun on the lazy river while your child learns the fundamentals of swim from certified instructors. They offer lessons that range from parent-child up to advanced swim.