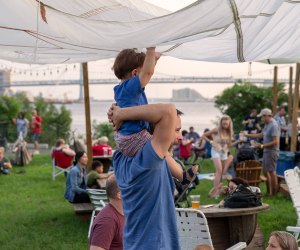 15+ Things Philly Dads Actually Want to Do for Father's Day
Whether the Dad in your life is a music fan, an outdoor enthusiast, or craftsman, Philly has a Father's Day activity that is sure to please. Check out the various options in and around the city that will be running throughout the Father's Day weekend. Options include activities guys can partake in with their significant other, family, or friends.
Sporting Events
Phillies Game- Philly dads, celebrate Father's Day early by heading to Citizens Bank Park on Sunday, June 9, for Father's Appreciation Day. To celebrate dads, the park will be giving away golf vests emblazoned with the Phillies logo. The Phillies will play the Cincinnati Reds.
Philadelphia Soul- Prefer football to baseball? Why not grab seats at the Wells Fargo Center and watch a live game? On Father's Day, the Soul will play the AC Blackjacks at 4 p.m.
Father's Day Run - On June 16, head to Paine's Park and take part in a 5K, where proceeds will go to prostate cancer research and education. Registration begins at 7:00 a.m., with the race starting at 8:30 a.m. This has been a Father's Day tradition for nearly 20 years.
Food and Drinks
Parks on Tap - From June 12 through 16, visit Belmont Plateau in Northwest Philadelphia. Enjoy the skyline view while you sip a cool draft beer. Rotating selections include Sly Fox Helles, Flying Dog Thunderpeel, Neshaminy Creek Traguer Pils, Victory Summer Love, and Mainstay Parks Pale Ale (exclusive to Parks on Tap), to name a few. Want to check out another location? There are a quite a few summertime beer gardens in the area that are perfect for grownups AND kids.
Distillery Tour - Check out the Philly Distillery Trail, which lists 11 distilleries in the Greater Philly area. Rowhouse Spirits Distillery on Frankford Ave., for example, offers tours and $5 tastings on Thursdays and Saturdays. Specialty spirits include Rowhouse Gin, Drowned Devil Rum, Nordic Akvavit, and Bear Trap liquer. Red Brick Craft Distillery on Martha St. is another option, with tours and tastings at select times on Saturdays and Sundays. This distillery is known for its single malt whiskey made from barley that has been harvested and malted locally and aged in full char white oak barrels.
Super Heroes and Fantasy
Marvel Exhibit - Visit the Universe of Super Heroes exhibit at the Franklin Institute, going on now through September 2. View props, costumes, original artwork, and more, and pose for photo opps with life-size character figures.
Wizard World Comic Con - This year's event will be held this June 13 through 16 at the Pennsylvania Convention Center. Some of the highlights include video game sessions, workshops, vendor stations, and vehicle displays. Celebrity guests will be onsite for autographs, photos and meet and greets. General admission tickets start at $34.99.
Indoor Entertainment
Axe Throwing - Bury the Hatchet, a BYOB, has several locations throughout Philly and the suburbs. Alternatively, head to Old City and check out Kick Axe Throwing, where you can enjoy food and drinks in a lounge that could pass as a hip lumberjack's living room. Make sure to make reservations and don't forget to sport your flannel.
Burgers and Bowling - On June 16, Dave and Busters in the Northeast's Philadelphia Mills will host this event from 12 p.m. to 3 p.m. This family-friendly activity is sure to be a hit for kids and dads alike. After bowling, load a game card and spend some time in the arcade.
Comedy Club - Get some laughs in before you have to head back to work on Monday. Helium and Punch Line are just a couple local venues featuring shows on Father's Day weekend. Buy tickets online to reserve your seat.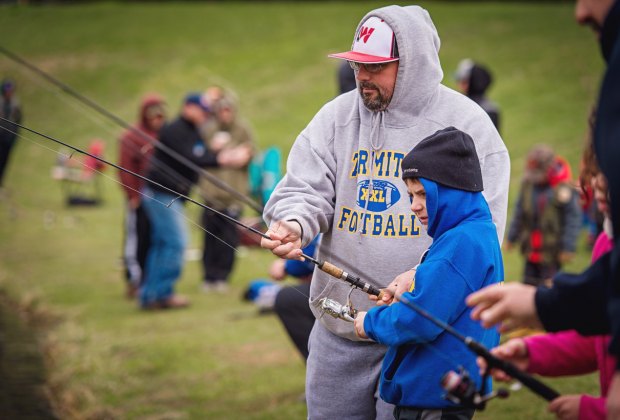 Enjoy some line time with Dad at Linvilla Ochards. Photo from Linvilla Orchards
Outdoor Activities
Camping - Have an RV or just enjoy being surrounded by nature? Why not head to any one of the family-friendly local camping grounds for a weekend of relaxation. Rent a cabin in advance or pitch a tent and enjoy the great outdoors.
Fishing - Visit the Jersey shore for a boating excursion, or take your rod and reel to your favorite local fishing spot. Fish for trout at Pennypack Park, or head to Linvilla Orchards in Media, where you can fish for trout, bass, and catfish without a license.
Paintball - Here's a Father's Day activity for dads who enjoy guns, gear, and rugged terrain. There are a few area options available, including Crusader Paintball in Fairless Hills (Bucks County) and Poco Loco Paintball in Schwenksville (Montgomery County.)
Festivals and Outdoor Events
Car Shows - Who doesn't love a summer car show? On Saturday, June 15, venture to NE Philly's Philadelphia Mills Mall, where you'll find a host of cars on display from 3 p.m.- 8 p.m. Another option the same day is the Simeone Automotive Museum, which will feature a classic car event from 10 a.m. to 4 p.m., with proceeds benefiting the Children's Hospital of Philadelphia.
Helicopter Rides - Have a dad that loves heights? Then head to the American Helicopter Museum's FatherFest on Sunday, June 16 from 10 a.m. to 3 p.m., which features more than just helicopters. Antique cars, motorcycles, a beer garden, and games are on the docket.
Food Trucks - On June 15 from 11 a.m. to 5 p.m., FDR Park in Philadelphia will host a food truck festival, featuring more than 20 choices of fare, plus live music, raffles, and vendors. Kid-friendly activities include face painting, sand art, bounce houses, and balloons. Philadelphia Soul and Union players will be onsite playing soccer with kids. What's more, proceeds benefit children with autism, providing funds to send them to camp and other activities.