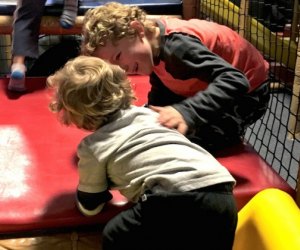 8 Play Places for Philly Siblings with an Age Gap
If your kids are separated by a large age gap, it can be hard to keep them both happy and entertained. What makes your baby happy can be boring for an older kid who wants to run and play, but squirmy toddlers might not be able to keep up with your older kid's activities. Unless you can clone yourself to take each of your kids to different activities, finding something to keep them all entertained is key.
To stay up-to-date on all the latest Philly activities, check out our Events Calendar to find something fun in your area.
Kehler's Gymnastics - Broomall
Kehler's Kids Fun Factory is great for kids of all ages. This soft playground features cargo nets, tunnels, ball pits and a returnable trolley ride. Toddlers have their own little corner with a separate ball pit to keep away from the big kids, but are also welcome to climb around the larger portion of the playground. This is such a fun rainy day activity and very inexpensive. Parents get in for free and kids are just $5 on weekdays and $7 on weekends. They also offer gymnastics classes for all ages, so if you have one kid enrolled in a class, the other can play and have fun in the playground area. Kehler's is most fun for kids age 1-11.
Smith Memorial Playground - Philadelphia
I know, I know, this place is on every list we ever right, but trust me, there's a reason. With multiple playgrounds, a huge wooden slide and an indoor playspace for toddlers, Smith has something for every age. It's a great spot for all of your kids to blow off energy uninhibited by age differences.
Bette's Family Fun Center - Aston
Bette's Family Fun Center has it all. Mounbounces, slides, a soft play unit, arcade games, Wii, Xbox and a toddler unit just for kids 4 and under. It only has open play hours Friday, Saturday and Sunday, so be sure to check their hours in advance.
Hands-on House Children's Museum - Lancaster
Hands-on House is geared towards children age 2-10. It's similar to the Please Touch Museum, but with more of a focus on learning and activities that are of interest for a wide range of ages. What's especially fun about this museum is it's intended for kids and parents to enjoy and learn together. The exhibits are self-directed and change frequently, so you can come back and discover something new. It also offers fun classes free with general admission. Check out Hands-on House's website for a class schedule.
Jumper's Family Fun Center - Newtown Square
The most important thing that Jumper's offers is free coffee. Those two words could get me anywhere. They have a soft play unit, giant slides, obstacles, moon bounces and a "Little Cub" area for the tinier siblings. Children younger than 18 months are free with a paying child, and parents are always free. Jumper's is intended for kids 1-10.
Oasis Family Fun Center - Glen Mills
With 2 soft playgrounds, arcade games, mini bowling, a rock climbing wall, a lazer maze and jumpshot trampoline basketball, Oasis is a great way to have fun with all of your kids. Not to mention, playgrounds are free for kids 18 months and younger. Oasis has something for kids age 1-12.
Jungle Wonder - Limerick
Glow in the dark laser tag, black light mini golf and ball blasters are just some of what Jungle Wonder has to offer. It also features a soft playground and a separate toddler gym and bounce area for kids up to 36 months, so they won't get knocked over by the big kids.
The Sports Zone - Southampton
Sports Zone offers attractions for kids of all different ages. Those 7 and under will love the Kids Zone, which includes a moon bounce, ball pit, junior rock wall, a carousel and more. Kids 8 and up can enjoy Sports Zone's Slam Ball and Space Jump- 2 trampoline activities perfect for burning off energy. Sports Zone also has a larger rock climbing wall and batting cages. Note: Saturdays and Sundays are party days, so it's recommended that you call before coming.
If you're looking for other activities that are fun no matter kids' ages try going for a hike or a bike ride, visiting a pick-your-own farm or checking out a free outdoor summer concert or movie.
Socks are a requirement at all soft playgrounds. Birthday packages are available at every establishment on this list. If you find one your kids really love, it could be the perfect spot for your little one's next party.
Photo used with permission.