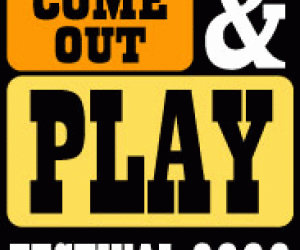 Get Your Game On at Come Out and Play Festival
Experience random acts of fun at the Come Out and Play Festival, a free New York City street game festival running from June 12-14. This event turns the city into a giant playground, with everything from a photo hunt to a jump roping contest. It's not about winning, but about rediscovering the city through play and play through the city. Although Come Out and Play isn't just for kids, there's lots of fun family friendly games that kids will enjoy as much as you will.
Here are some games from the Come Out and Play Festival that are fun for kids:
If you have a budding Annie Leibovitz on your hands, consider Photopolis, which encourages petite photographers to take pictures of New York City based on prompts. At the same time New York City kids are snapping photos, players in other cities (Beijing, Shanghai) will be doing the same. Pictures will be voted on anonymously, based on their quality. This is a great way for kids to learn about different cultures while increasing their photography skills and working with others, as a team. However, because this requires some skill (namely knowing how to use a cameraphone or digital camera), it is recommended for older kids and teens.
What would happen if a group of mean property developers wanted to ruin Central Park and your child had to save it? That's the question the game Hidden Park asks. Your kid will be assisting the Magical Wildlife Protection Agency in its quest to preserve the park by trying to prove fairies and dragons live there. If your child is good at solving puzzles, taking pictures and using their iPhone, this is the ideal game for him or her.
Gigaputt is a giant virtual game of golf played through Times Square on iPhones available to borrow. Sounds really fun.
Picky Sticky Pollen is a fun game even young kids can enjoy. A lawn in Central Park is sprinkled with different types of "pollen." There are queen bees, worker bees, and teams. Teams decide what the worker bees will do. If the worker bees follow the commands well enough, the team wins. Winning teams get prizes, and every player is entitled to free screen-printing on items they bring from home (like a T-shirt or a bag).
Cryptids are weird creatures who spin, jump and swing in odd ways. So they're pretty hard to catch. Is your child up to the challenge? He'll find out in the CryptoZoo Playing Workshop as he chases a pack of cryptids with other players on a one mile section of the city.
In Diva Dutch, girls must recite a rhyme involving every letter of the alphabet while jumping rope. What makes this game unique is that instead of using regular jump rope, players will be using long braids cut from the heads of local African-American women. They are also encouraged to dress up like a little "diva." Fun, or just weird?
Seek n' Spell is a modern-day version of Scrabble. Using an iPhone, players go to any park or outdoor place and "pick up" letters to spell words, with longer words and golden letters increasing their points. Create as many words as you can before the clock runs out. The end result could be an improvement in your child's vocabulary and a strengthening of his spelling skills.

All games are free. Find the complete schedule for the Come Out & Play festival here. Family friendly games are clearly marked. Make sure to sign up soon because some games do fill up.