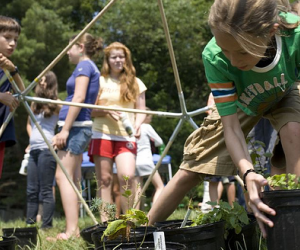 3 Super Cool Science Camps I Want to Go To
A science summer camp is a great way for kids to learn about science from real life experiences, rather than text books. We've found three fantastic science camps that teach kids science through real-life experiences that are so cool I want to go!
Science Teacher Sarah
I love Science Teacher Sarah's programs because she teaches kids science the way I would, using the amazing resources of New York City to give kids hands-on, real life experiences. In Science Teacher Sarah's Summer Day Camp kids go on a field trip every Monday, Wednesday and Friday to explore one of New York's cool science spots. This year's science trips will include places like the "cheese cave" at Murray's Cheese Shop, Beczak Environmental Education Center, the Thomas Edison Workshop, and the Science Barge among many others.
Tuesday and Thursday kids spend in the classroom doing experiments and projects that expound on what they learned on their field trip. Themes include biology, evolution, plants, animals, biodiversity, astronomy, chemistry, aviation, atoms, molecules, and the science of ancient cultures. In-class days also include Animal Care and Petting where Junior Scientists learn about and care for the 25 animal residents, including snakes, turtles, lizards, bugs, and a hedgehog.
Another great thing about Science Teacher Sarah is that you can sign up for individual days or for a full-week. How's that for flexibility! Plus all ages are welcome, however, students under age 5 should have an escort for field trips.
Whale Camp
Whale Camp takes place on a remote island in the Bay of Fundy (that's between Maine and Nova Scotia). The Bay of Fundy boasts one of the most bio-diverse marine environments on earth which means sea birds and marine life are everywhere. Whale Camp teaches kids about ecology, marine biology, sailing and navigation and more in this amazing real-life setting. With real field experiences, hikes, eco-tours, and classroom activities your kids get to do everything real scientists do including going out in sail boats to view whales and puffins and other sea life up close.
Whale Camp sounds like an incredible experience. It's a sleep-away camp for ages 10 to 17, but they also offer a family program where the whole family can participate in this fascinating program. What a memorable family vacation that would be!
Beam Camp
In terms of unique, out of the ordinary experiences there is a camp located in Strafford, New Hampshire that should be at the top of your list. Beam is a three week sleep away camp for children aged 7-17. During the three weeks, campers work together on an all-camp project. Each summer the collective camp spends time each day participating in the creation and construction of an annual collaborative endeavor.
Recent projects have included: the Beam fleet, which comprised of seven wooden vehicles which were designed and fabricated by the campers, equal parts kinetic sculptures, simple machines and rolling canvases, and The Beam Micro/Macro Domes: five geodesic domes based on the forms and structures of five virus proteins, that became shelters, playspaces and activity centers.
Simply put, this isn't your average camp artwork or craftwork, or as I remember it the leather braided bracelet I used to bring home. What is even better: at the end of the session, parents and guests join their loved ones at Beam for the project's completion and a celebration.
Campers at Beam also enjoy traditional activity time classified at Beam as, what the camp calls, domains. In addition to traditional camp activities like swimming, painting, and canoeing, campers can select from digital photography, boomeranging, or visual art. Sign me up. This is a camp I want to go to myself!
(this post was contributed to by Anna and Shea, originally published August 24, 2008.)