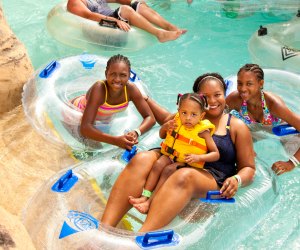 Memorial Day Weekend Fun for NJ Kids: Water Parks, Parades, Beach
The unofficial start to the summer is here, New Jersey, and that means plenty of time to enjoy the great outdoors with family and friends! If you're planning to stick around town, there's fun to be had in every corner of our state. This weekend marks the season opening of Jersey Shore beaches, and amusement parks and attractions, including the Land of Make Believe, Field Station Dinosaurs, and most of the outdoor water parks, including Raging Waters at Morey's Piers. It's also the start of strawberry picking season at many area farms.
Truck lovers will want to check out Memorial Day Weekend at Diggerland, and thrill seekers may want to take part in Your First Mud Run in Garfield. Round out your long weekend with the Fit & Fun Festival at Camden Children's Garden, the Wildwoods International Kite Festival, or the Woodland Park Street Fair. Stay up for the fireworks at Asbury Park Beach on Sunday.
For additional Memorial Day weekend options, take a look at our full Event Calendar, or peruse our Day Trips Guide to explore a new-to-you playground, park, or even a cute New Jersey town.
Also, this is the last weekend to cast your vote for the New Jersey Besties! When you vote you'll be entered to win one of two terrific prizes: a luxurious NYC getaway including a suite credit from Suiteness and a custom itinerary designed by Mommy Poppins herself, Anna Fader, or a two-night stay for four at the Great Wolf Lodge in the Pocono Mountains. The contest ends May 28, so vote today!
All Weekend
Jersey Shore Food Truck Festival – Oceanport
This weekend, more than 45 food trucks will be serving up delicious eats at Monmouth Park Racetrack for this year's Jersey Shore Food Truck Festival. There will be countless edible options, including lobster rolls, cupcakes, cheese steaks, empanadas, waffle sundaes, and more. Check website for details, as times vary from day to day.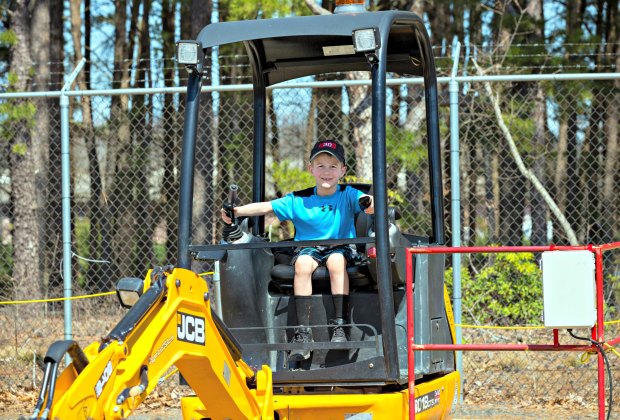 Kids can operate heavy machinery this weekend at Diggerland. Photo courtesy of Diggerland USA
Memorial Day Weekend at Diggerland – West Berlin
Forget the beach this weekend and dig in the sand at Diggerland, where kids can drive, ride, and operate heavy machinery in a gigantic sand pit. The fleet includes back hoes, dump trucks, excavators, and more. Tickets available online.
Raging Waters Season Opening – Wildwood
Enjoy the warming temperatures at opening weekend at Raging Waters, where you can ride on a lazy river, rope swing, water slides, and more.
Field Station Dinosaurs Opening Weekend – Leonia
The dinos return for another summer in their new digs at Overpeck Park. Head over to visit 31 animatronic dinosaurs, see live shows, dig for fossils, and more.
Fit & Fun Festival – Camden
Spend a fun and healthy day at Camden Children's Garden! This lively festival showcases easy and engaging ideas for a healthy lifestyle, with a focus on simple physical activities and nutritious eating. Kids can enjoy crafts, a vegetable planting activity, and other educational activities in support of healthy living.

The sky will be filled with amazing, colorful creations at the Wildwoods Kite Festival. Photo by Martin Lewison/CC BY 2.0
Wildwoods International Kite Festival – Wildwood
The Annual Wildwoods International Kite Festival, the largest kite festival in North America, features kite makers from around the world flying their most incredible colorful creations. Saturday and Sunday include the East Coast Stunt Kite Championships on the beach as well as kite workshops and family games. Monday will feature the World Indoor Kite Competition at the Wildwoods Convention Center.
Saturday, May 27
​Strawberry Festival – Medford
This two-day festival (also happening Sunday) at Johnson's Corner Farm is great for everyone, even those who don't delight in the delicious berry. There will be a barbecue, hayrides, music, classic cars, and of course delicious strawberry treats, too. Check website for details.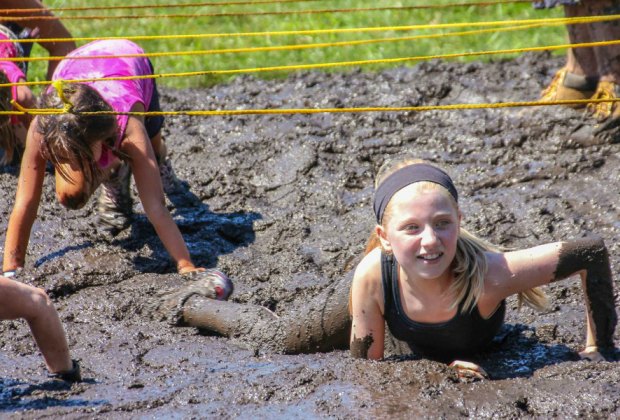 Get messy at Your First Mud Run. Photo courtesy of Mud Run
Your First Mud Run – Garfield
Bring your whole family to the Century Field complex to take on this muddy, obstacle-filled course. This family-friendly run has the same types of challenges as an adult course, but on a smaller scale. Registration available online.
Land of Make Believe Opening Day – Hope
This holiday weekend, plan a day trip to this family park geared toward little ones. All rides and water park fun are included with the price of admission. Check the website to find out what's new at the park this year.
Sunday, May 28
Memorial Weekend Fireworks – Asbury Park
Hit the boardwalk at Asbury Park beach for some of the first fireworks of the season. FREE show for all, although there's also a 21+ party happening for which tickets are required.
Family-Friendly Paint Party – Berkley Heights
This painting party welcomes all families and children ages 6+. Your group will be provided with art supplies and aprons, along with step-by-step instruction. Be sure to bring your own snacks and beverages to enjoy while creating. Register online.
Drop-in Studio at MAM – Montclair
Get creative as you explore a range of art materials and processes based on works on view at Montclair Art Museum. Seasoned art instructors will be on hand to offer guidance. Free with museum admission.
Monday, May 29
Memorial Day Paddle – Roseland
This Memorial Day, go canoeing on the peaceful Passaic River. Relax and enjoy the scenery as you paddle up the river and then float back down. The session includes a safety and techniques lesson as well as all equipment.
Westfield Memorial Day Parade – Westfield
Celebrate this patriotic day with a parade. Opening ceremonies begin promptly at 9 a.m., and the parade will proceed on East Broad Street through town. Parade-goers can cheer for the mayor and council, members of the Westfield Police and Fire Department, and local youth and civic organizations. FREE
Woodland Park Street Fair – Woodland Park
Enjoy a Memorial Day parade through town, and then head to McBride Avenue for a gigantic block party. This event will include kiddie rides, sand art, temporary tattoos, a petting zoo, and more for the kiddos, plus shopping, eating, and live music for the grown-ups. FREE
Top image: Raging Waters. Photo courtesy of Morey's Piers