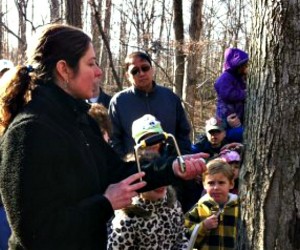 How Sweet It Is! Maple Sugaring in New Jersey
Growing up in South Florida amidst the palm trees, there were certain things that never crossed my mind; basically anything having to do with snow. Snow angels, sledding, snowball fights, skiing, skating, snow shoveling…you get the picture. But one job interview, a moving truck and about 148 boxes later, my family and I became official residents of New Jersey, braving our first winter. I also never thought much about maple syrup. Sure, I knew it came from trees, maybe up somewhere in the mountains of Vermont. But lo and behold, New Jersey actually has a maple sugaring industry and this is the perfect time of year to bundle up the family and take a day trip to a demo at one of our state's many nature preserves.
The Great Swamp Outdoor Education Center in Chatham is once again holding their awesome maple sugaring demos and end-of-the-season festival this March. Read on for our family's first-hand account from last winter and some additional places around our state to learn about the sweet stuff!
The center is part of the Morris County Park Commission and holds their demos in January and February - peak maple sap season. I wasn't sure what to expect as we trekked up to a cozy-looking wooden building situated on the edge of the Great Swamp National Wildlife Refuge.
We went inside and had a chance to poke around a bit before "class" started. My daughter was absolutely delighted to watch both a turtle and bright-orange snake in their aquariums and she also loved the indoor sandbox where you could "stamp" different animal paw tracks. There was even a section filled with books on nature for every different age group. When Naturalist Kristen Pakonis began the demo, she was cheerful and knowledgeable, and made sure to shape the discussion so both the adults and children stayed interested. She talked all about the anatomy of trees, how they produce sap and how to identify a Red Maple tree that would give us our coveted maple syrup.
After the 20 minute crash course (including step by step instructions on the actual tree tapping process) we all bundled back up and headed outside to one of the nature trails. It took our group about 4 wrong guesses before we finally spotted a Red Maple. Kristen let a few of the dads (and one very excited 8 year old girl) take turns drilling into the tree, then helped them attach a spout and sap bucket. Next was the really neat part – we went over to an outdoor structure which housed what looked almost like wood-burning fire place and watched as the sap was heated to evaporate most of the water, leaving us with that sweet substance we all know as syrup. The fun continued back inside the nature center where Kristen let everyone blind taste test 3 types of syrup – one of the more rich Grade A varieties that's produced from Sugar Maples (found up in northern New England only), a super-sweet store bought variety (Aunt Jemima is my best guess) and finally, the semi-sweet syrup that comes from our very own Red Maples here in New Jersey.
Families were then welcome to stay and ask questions, look around at the animals and rotating exhibits inside the center, or – like my husband, daughter and I decided to do – head back outside and hike one of the beautiful trails to enjoy some winter wilderness.
Jenny Gaus-Myers, Superintendent of Environmental Education at Great Swamp, is excited for families to drop by and take part in their programs: "Our center is open year round and we believe every month of the year is a good time to be outdoors. Our maple sugaring festival at the end of the season is going to be a really good time for families."
Maple sugaring demos will take place on weekends thru the end of February.
Great Swamp will close out the season with their Maple Sugar Festival on Saturday, March 4th from 12pm – 4pm ($4/person). They'll be guided "Sugaring thru History" walks, maple syrup snow cones (yum!), crafts and games. Please call the Great Swamp Outdoor Education Center to pre-register for an upcoming demo at (973) 635-6629 or visit their website.

Here are a few other places in Jersey where you can enjoy maple sugaring season:
Stony Brook-Millstone Watershed Reserve (Pennington, NJ)
Environmental Education Center (Basking Ridge, NJ)
Tenafly Nature Center (Tenafly, NJ)
Reeves-Reed Arboretum (Summit, NJ)
Originally published February 2012