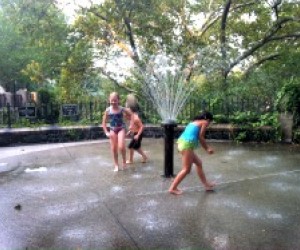 News: Water-Conserving Sprinklers, Sharks Take Over Coney Island and a Free Moms' Night Out This Week
Are you ready for some good news? How about lots of it? In this edition of our biweekly links post we've got nothin' but happy tales, including the scoop on the New York Aquarium's fancy upcoming shark exhibit, water-conserving playground sprinklers (about time!), a free night of comedy and cocktails for NYC moms, and the strange world of denim jeans for mamas—a must-read before your next fall shopping trip.
After decades of wasting H2O, NYC sprinklers are set to get water-saving timers. Twenty-three playgrounds will get these devices by the end of the summer, which allow sprinklers to spurt in two-minute bursts before shutting off. A quick push of a nearby button turns them on again. Four hundred sprinklers should be finished within five years.

Coney Island is about to be invaded by sharks. The New York Aquarium is set to start work on Ocean Wonders: Sharks!, a $127 million exhibit that will feature 115 species of marine animals including rays, sea turtles, exotic fish and, of course, Jaws' buddies. If everything goes swimmingly, families will be able to check out this new installation in spring, 2015.

Hey moms, are you desperate for a laugh and a few libations? Then consider RSVPing to NickMom's Mom's Night Out Comedy and Cocktails TV tapings. There are three this week (Tuesday-Thursday at 7:30pm) in Midtown and all are hosted by local stand-up and mom Judy Gold. The comedy and the cocktails are totally FREE.

Prefer a date night with your hubby? You're in luck: Last year we rounded up play spaces that offer drop-off evening childcare. One of the programs, Project Playdate, has expanded and is now offering kids' pajama parties at four NYC locations: Tribeca, Union Square, Park Slope and the Upper West Side.

Speaking of the UWS, the über-family-friendly nabe has a brand-new candy store offering treats for kids and adults. In addition to selling sweets and baked goods, Sugar and Plumm has free Wi-Fi, gelato, wine and a stroller valet. What's next, no-cost childcare? (Hint, hint.)

The Scholastic Store is no longer the only fun shop to romp around in down in Soho. The Spring Street MoMA Design Store has opened an expanded children's section featuring comfy carpets and seating where kids can play with educational toys, games and books. Think of it as a free play space (assuming you can get out of there without buying something).

One of our favorite children's theater troupes, Making Books Sing, is trying to raise money to tour its anti-bullying drama, Sticks and Stones, to New York City middle schools. So far they've got $9,603. Can you help them make their $25,000 goal on Kickstarter?

And to end on an uproarious note, moms, before you stroll into the Gap or Old Navy to pick up some fresh denim, consult this handy and hilarious guide which shows you which jeans will flatter or seemingly fatten your backside.