Best Museums for Kids and Families in Central and Southern New Jersey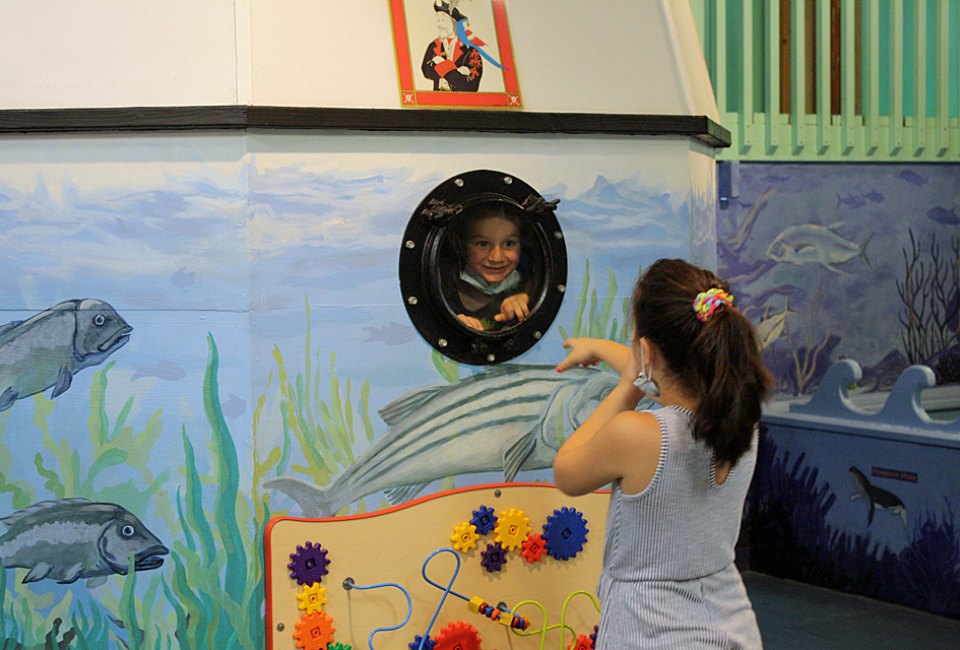 8/24/21
- By
Michelle Vames
You don't have to visit a mega-metropolis to enjoy an enriching, family-friendly museum visit. In fact, Central and Southern New Jersey have a collection of cool museums for kids where you can explore a battleship, ride a vintage train, gaze at the stars, and even peep a shrunken head.
Find more family-friendly museums with our picks for the best museums for kids in northern NJ.
Subscribe to our newsletters to get stories like this delivered directly to your inbox.
Located a short stroll up the waterfront from the fabulous Adventure Aquarium and Camden Children's Garden, you'll find the Battleship New Jersey Museum and Memorial. America's most decorated battleship is an impressive sight—even more so once you're aboard. You're free to explore the ship from a sailor's perspective—climb into a bunk or a gun turret—and even go where he couldn't: the admiral's chair.
This regional art center houses a collection of contemporary art and offers a wide selection of art classes and workshops for kids and a popular summer camp program. Visit its website to explore a variety of exhibits and events.
Located on the Brookdale Community College campus, the Monmouth Museum is a great resource for local families. In addition to its expansive art gallery, the museum houses two wings specifically for children: the Wonder Wing for ages 6 and under and the Becker Children's Wing for ages 7-12. The Wonder Wing provides an interactive seashore environment complete with a pirate ship, treehouse, kelp forest, and whale slide for little ones to explore. In the Becker Wing, exhibits are based on cultural history and science, including the current exhibit, Ancients to Astronauts: How We Communicate.
This nonprofit museum is dedicated to preserving maritime history. See shipwreck artifacts, historical photos, navigational equipment, diving gear, and much more at this museum, which houses the most extensive maritime history collection of artifacts in New Jersey.
RELATED: Historic Villages in NJ That Are Fun for Kids and Families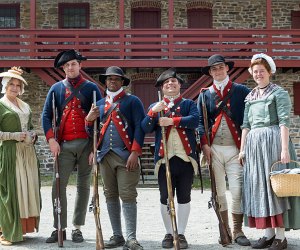 Step back in time at The Old Barracks Museum, which tells the story of colonial life in New Jersey.
The Old Barracks Museum brings Colonial America and Revolutionary War-era New Jersey to life through demonstrations, exhibits, and other interactive programming for kids and adults. The Old Barracks building is a relic of Colonial-era New Jersey, built to house the British soldiers during the French and Indian War in 1758.
Founded in 1952, the Pine Creek Railroad is one of the country's longest-running narrow gauge railway exhibits. The Museum contains many rare antique pieces of railway equipment and structures, but best of all, you can hop aboard and ride the train. Tickets are sold online only (and are non-refundable). Check out the website for operating hours.
This museum's exhibits shine a spotlight on history, art, and science. You can see models of Native American houses, learn about WWI, and check out dinosaur fossils found right in New Jersey. The museum hosts exciting new events monthly.
Searching for something out of the ordinary to do with the kiddos? You can't go wrong with a visit to Ripley's "Odditorium" in Atlantic City. Bizarre artifacts, including the world's smallest production car and a shrunken human head, share the floor with hands-on exhibits and unusual artwork. Adventurous older kids (and adults) should check out the Laser Maze Challenge. Do you think you can successfully navigate a room filled with lasers without breaking a beam?
The Princeton University Art Museum building is closed, while a new museum building, slated to open in 2024, is under construction. In the meantime, visit it online.
This family-friendly museum houses an impressive collection of more than 100,000 works of art, from ancient to contemporary, across mediums.
Photos courtesy of the museums
Originally published 2014
Sign up for the Mommy Poppins Newsletter today!
i