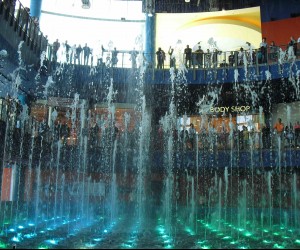 Atlantic City, the Rodeo and Lots More Family Fun
If you thought Atlantic City was only slot machines and cocktail waitresses, think again. This South Jersey seaside city is reinventing itself as a family destination.
My kids and I took an overnight vacation to Atlantic City last spring, with winning results. The kids were excited to walk the actual streets whose names they recognized from frequent games of Monopoly. We headed over to the boardwalk, and though it was too cold to swim, there were lots of activities to keep the kids entertained. We had a great time visiting the emporium of the weird and freaky, Ripley's Believe It Or Not! Museum. We hit the famed amusement park, the Steel Pier, and had a ball on the rides and trying our luck at the arcade games.
We headed indoors to the Pier Shops at Caesars, where we joined the crowd to enjoy the Vegas-style hourly fountain extravaganza, done to choreographed colorful lights and music, free of charge. Our hotel for the night was the non-gaming Sheraton Atlantic City Convention Center Hotel. It was a good choice for our family, as it was full of other kids romping in the pool. It enjoys an excellent location, down the street from the shopping outlets, known as The Walk. The Sheraton is the home to the largest collection of Miss America memorabilia in the world, so we had fun looking at the assortment of tiaras, bathing suits and high-heeled shoes.
Atlantic City is adding a new event to its calendar that may appeal to families. This year the city welcomes the Atlantic City Boardwalk Rodeo. The rodeo is 2 ½ hours in length, so it might be long for very young children, but school-aged kids will be treated to all of the classic rodeo events. The rodeo will be held at Boardwalk Hall from April 1-3. Friday and Saturday April 1and 2 shows are at 7:30 p.m., and Sunday's show is scheduled for a child-friendly 1 p.m.
This is a Professional Rodeo Cowboy Association sanctioned event, so expect non-stop action including bareback riding, steer wrestling, team roping and many other daring feats. Families are being enticed to come down with a special family four-pack, on sale for $79. The price includes 4 tickets that are regularly $31 each, 4 hot dogs, and 4 soft drinks. Perhaps you've always dreamed of the cowboy/cowgirl life? This seems like an excellent opportunity to give the rodeo a whirl if you're uninitiated, or to score a bargain if your family is already savvy to its thrills. Tickets can be purchased at Ticketmaster, Boardwalk Hall or call 800-736-1420.