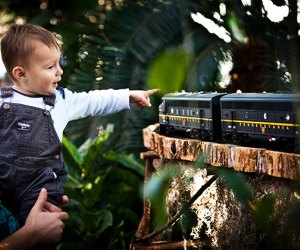 The NYBG Holiday Train Show Returns with Tons of Updates in 2017
We may still be a few weeks away from Halloween, but the trappings of the holiday season have started to creep onto store shelves, and we're already anticipating one of our favorite seasonal traditions: the Holiday Train Show at the New York Botanical Garden.
In 2017, the iconic skyscrapers of Midtown Manhattan take center stage. The show, which opens to the public on Wednesday, November 22, debuts all-new replicas of the Empire State Building, Chrysler Building, General Electric Building, and St. Bartholomew's Church.
True to life, the new Empire State Building, which replaces an older replica, even features an LED lighting scheme to imitate its nightly illuminations. Likewise, the Chrysler Building's new replica promises to lend more detail to its trademark Art Deco sunburst crown.
The General Electric Building and St. Bartholomew's Church, both located on Lexington Avenue, join the train show for the first time. Completing the NYC tableau is the Ed Koch Queensborogh Bridge, which debuted last year, and will rise high above the gallery floor.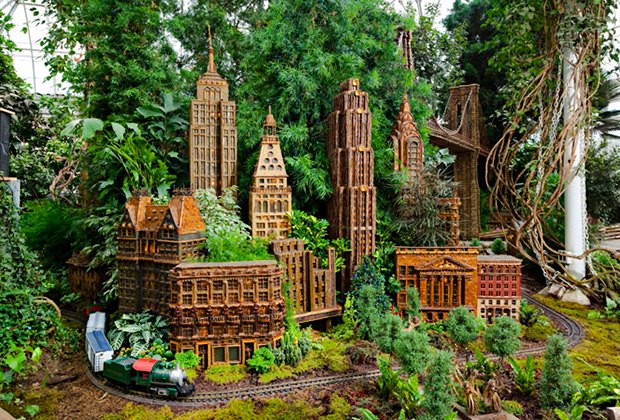 The old Midtown scene (pictured above) will be completely revamped in 2017. Photo courtesy NYBG
The Midtown scene is but one of many at the popular show, where more than 150 New York landmarks, painstakingly crafted from plant parts by the team at Applied Imagination, are displayed annually. Completing the scene are the more than 25 G-scale model trains that zoom through the cityscape.
Don't forget that the show includes an All Aboard with Thomas and Friends performance later in the season, too, and there are more train-themed activities, such as pretend play on the Evergreen Express and outdoor exploration of the winter garden.
Tickets are required and included in an All-Garden Pass. Plan to purchase a timed-entry pass in advance for popular times.