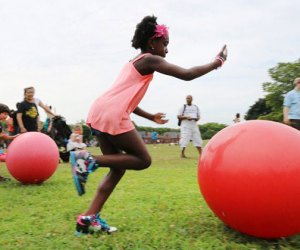 Weekend Fun: Come Out and Play, Muppets, Back to the Beach
Hey, New York City kids! Ready for movies, music, and theater? This weekend, The Jim Henson Exhibition, with loads of Muppet movies and artifacts, launches in Queens, while the new That Chemistry Show brings to Manhattan what That Physical Show did, but maybe messier. Erin Lee and the Up Past Bedtime Band hit Bryant Park, and Fort Greene Park gets jazzy.

That's not all. Staten Island's biggest outdoor festival of the summer, Back to the Beach, runs all weekend, and on Saturday Governors Island hosts the time-travel fun of Come Out and Play Family Day. Need to cool off? See our guide to the best water theme parks near NYC, as well as our 50 ways to cool off in NYC with kids this summer.
Save money with our 100 FREE Things to Do this Summer list, or head over to our brand-new local DEALS page! We've created a spot for some of our favorite NYC businesses to give you a deal on their services. How about 15% off camp apple seeds? Or save $100 at Play On! musical theater and drama camps? There are even discounts on birthday party packages. Check it out, and check back often as we're constantly adding new ones.
For more fun, see our July GoList, our Summer Fun Guide, and our equally action-packed Event Calendar.
All Weekend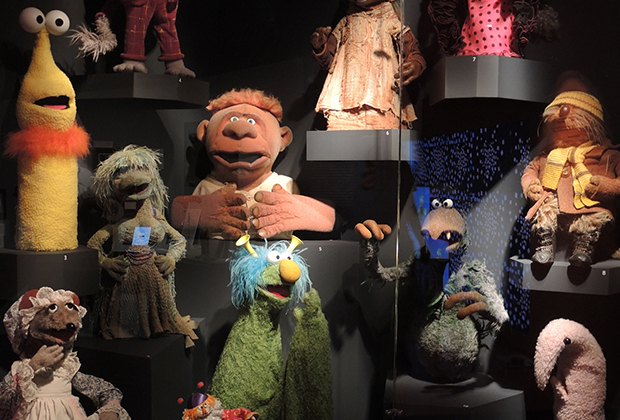 The much-awaited Jim Henson Exhibition opens this weekend. Photo courtesy of the museum
The Jim Henson Exhibition — Astoria, Queens
For this July GoList pick, the Museum of the Moving Image launches one of the most comprehensive exhibits dedicated to a man who impacted the imaginations of more than one generation of kids. See actual Muppets, or take a swing at designing your own. Henson's best films will run throughout, including some of his more obscure but must-see work.

Back to the Beach — Staten Island
This huge festival at Midland Beach features games, food, rides, live music, and maybe a monster truck or two, including fireworks. FREE
Caribbean Festival — Crown Heights, Brooklyn
Celebrate the food, dance, and traditions of the Caribbean with the Brooklyn Children's Museum, with everything from Jamaican nursery rhymes to a BobCat Kids Carnival Dance Party.

That Chemistry Show — Midtown West
Weaponized sugar, secret writing, and elephant toothpaste are just some of the amazing things you'll find in this new show from the people responsible for the popular long-running That Physics Show.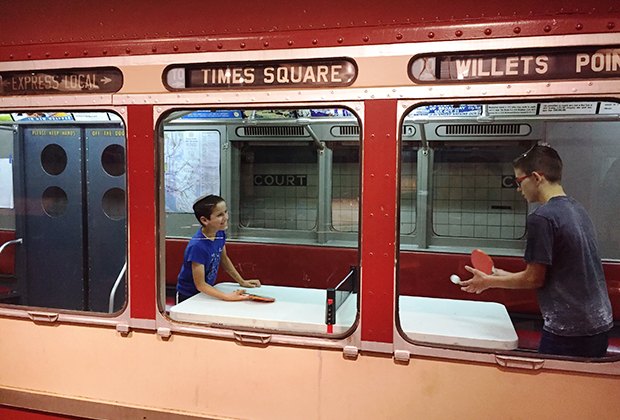 Enjoy ping pong in a subway car! Photo courtesy of the New York Transit Museum
Subway Olympics — Downtown Brooklyn
The New York Transit Museum challenges subway fans young and old to all sorts of games in their excellent underground arena.
Saturday, July 22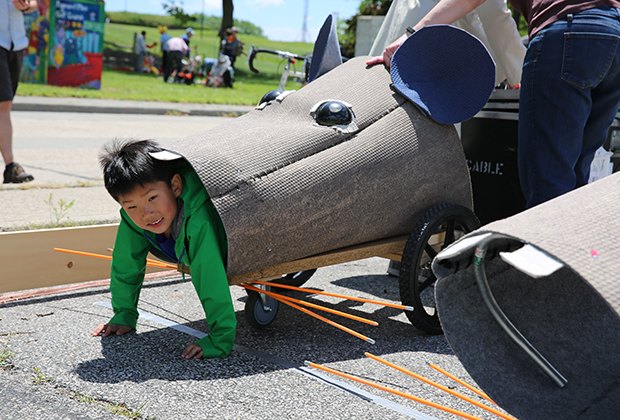 See the world as a subway rat at Come out & Play Family Day. Photo courtesy of ESI Design
Come Out & Play Family Day — Governors Island
At this July GoList pick on Governors Island, experience design firm ESI Design runs imaginative time-travel-themed games which, when all played in order, tell a story. FREE
Future Saturdays: Food From Farm to Kitchen — Brooklyn Navy Yard
Kids and adults can explore their food's journey with honeybee, composting, and cooking demos, as well as fun face painting and games thrown in, too. FREE
Erin Lee and the Up Past Bedtime Band — Bryant Park
Part of Bryant's Park's Reading Room Kids series, this concert features Lee and her sweet compositions like "Ticket to Anywhere," or "Cooper." FREE

Fort Greene Park Jazz Festival — Fort Greene, Brooklyn
NYC jazz-man Eric Frazier curates the first date of this festival (also on September 9) of free music all late afternoon in gorgeous Fort Greene Park.
FREE
Lil Miss SpitFIRE: The Musical Reading — West Harlem
The Harry Belafonte 115th St. Library hosts this musical look at the life of the inimitable Annie Sullivan, Helen Keller's famed teacher.
FREE
Sunday, July 23
Race — Randall's Island
There might not be a cooler place for an outdoor movie than Randall's Island and, on this night, you can catch the story of Jesse Owens's physical and political triumph at the 1936 Berlin Olympics. FREE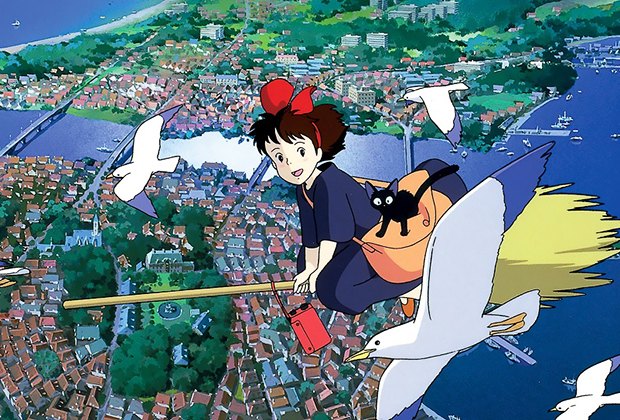 Catch Kiki's Delivery Service. Photo courtesy of Studio Ghibl​

Kiki's Delivery Service — Citywide
Your best indoor movie choice this Sunday might be this, the sweetest of Hayao Miyazaki's action-adventures, in which a young witch (voiced by a young Kirsten Dunst) launches a broomstick-based version of FedEx. It plays at various theaters throughout the city as part of the ongoing Studio Ghibli Fest 2017.

Sunday Fundays — Sugar Hill
Head to the Sugar Hill Children's Museum of Art and Storytelling for Flor Bromley's magical blend of stories and music.
Top photo: Come out & Play Family Day on Governors. Photo courtesy of the event