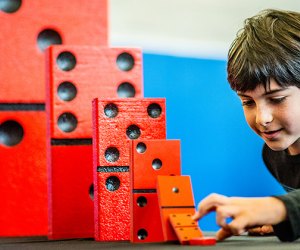 Weekend Fun: Kids Fest, Open House NYC, City of Science
This weekend is loaded with fall fun, including Kids Fest in Madison Square Park, the Harvest Fest & Pumpkin Patch at the Queens Botanical Garden, and Diwali celebrations. Plus City of Science lands in Park Slope, and the annual Open House New York lets families go behind the scenes at many of New York City's most celebrated institutions, museums, colleges, and even private venues.
In a Halloween state of mind? Check out the upcoming Halloween parades, no-cost Halloween events, and the top Halloween celebrations for NYC kids. Head over to Scarecrows & Pumpkins at the New York Botanical Garden this weekend, Luna Park for its annual Halloween Harvest, the Bronx for Boo at the Zoo, or even a Halloween-themed puppet show. Plus, there's pumpkin chucking at NYSCI already and the very popular Fire Museum Halloween Party (tickets go fast! It is now sold out).
There's also new children's theater opening this weekend, pumpkins ready to be picked, and fall foliage hikes as the leaves begin to turn. Plus, we're halfway through the fall already, so time to scoop up the last of the NY-area apples, visit the city's only corn maze, and check out the final harvest festivals.

Remember, more options for this weekend, October 15-16, are available on our Event Calendar. Also, be sure to peruse our Fall Fun Guide and Halloween Guide for even more seasonal activities.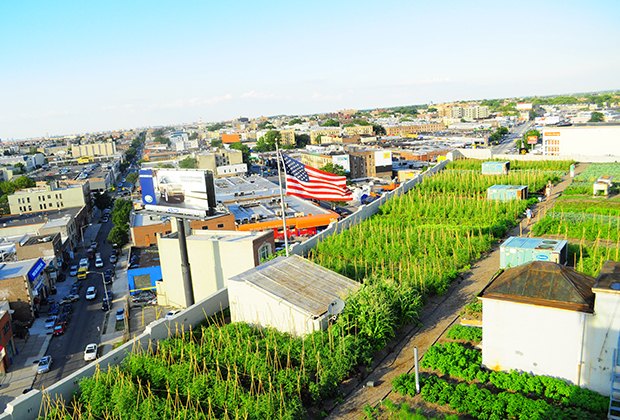 Scope out the rooftop farm of Brooklyn Grange during Open House New York. Photo by Anastasia Cole Plakias/courtesy of OHNY
All Weekend
Open House New York — Citywide
For one weekend every October, hundreds of New York City's historic buildings and architectural marvels, including private residences, cultural institutions, and offbeat spots such as cemeteries and artist studios, open their doors to the public as part of Open House New York. Take a tour of the rooftop garden at Brooklyn Grange, the Bartow-Pell Mansion Museum, the Essex Street Market, Japan Society, the Lowline Lab, the New York Botanical Garden, Morris-Jumel Mansion, and plenty more. Certain locations like the New York Hall of Science will offer special kid activities just for the occasion. Some of the more popular tours require advance registration, and some like Google, the Apollo Theater, High Line, and Grand Central are already at capacity. Mostly FREE
Spark Grand Opening — Dumbo
The Brooklyn Children's Museum debuts its first offshoot, a play and classes space for kids along the Dumbo waterfront. Open play hours run over both weekend afternoons. Advance registration suggested.
Hansel and Gretel's Halloween Adventure — Upper West Side
Head to the Swedish Cottage Marionette Theatre in Central Park for the opening of Hansel and Gretel's Halloween Adventure, a fun take on this fairytale with NYC as the backdrop.
I Approve This Message — Upper West Side
The Children's Museum of Manhattan just debuted a new exhibit just right for the election season: I Approve This Message. The exhibit serves as a gentle introduction to civic life and includes a faux Oval Office, voting booth, factoids about past presidents, a presidential-themed scavenger hunt, and more hands-on activities for kids.
Mr. Popper's Penguins — Midtown West
October GoList pick: This stage adaptation of Richard and Florence Atwater's beloved 1938 book about a small-town family that is unexpectedly inundated with adorable but pesky penguins. With a vaudeville vibe, old-time tunes, and wonderful penguin puppets, this one-hour show is a great way to get your kid's flippers...er, feet, wet when it comes to live entertainment.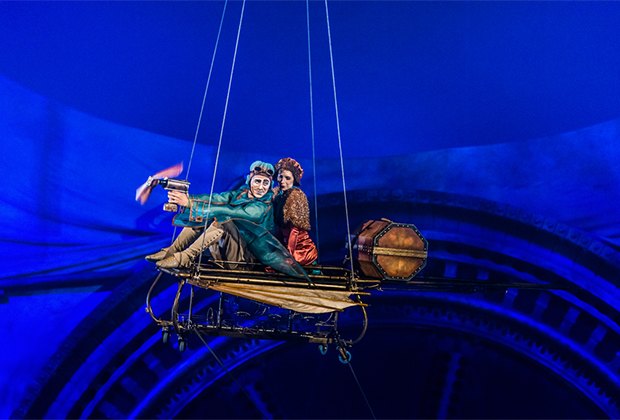 Cirque du Soleil's new show, Kurios: Cabinet of Curiosities, entertains and awes. Photo by Martin Girard. Costumes by Philippe Guillotel/courtesy Cirque du Soleil.
Kurios: Cabinet of Curiosities — Randall's Island
The just-opened Cirque du Soleil show will wow middle schoolers and up with its surprises and, of course, impressive acrobatic feats all taking place in a more intimate setting than some of its more recent shows.
Halloween Harvest Festival — Coney Island, Brooklyn
Get a head start on Halloween at Luna Park. Festivities include Halloween-themed crafts, Kooky Spooky Karaoke, petting zoo, pony rides, a pumpkin patch, and more. Free admission with fees for select activities.
Creepy Creatures of Halloween — the Bronx
Meet live backyard critters and creatures during animal demonstrations at the New York Botanical Garden this weekend. Afterward, check out the pumpkin display in the children's garden, or take the older kids to walk the spooky scarecrow path. Included in the All-Garden Pass admission.
Saturday, October 15
Unfortunately, this event is now sold out.
NYC Fire Museum Halloween Party — Hudson Square
Don those costumes and head to the NYC Fire Museum for this kid Halloween party. Expect games, candy, a costume contest, and plenty of firehouse fun. The event typically sells out, so grab tickets now if interested!
Kids Fest — Flatiron
A top October GoList pick: Hit Madison Square Park for one of the biggest family fests this fall. Catch a variety of family-friendly performances on three stages, including music, clowns, storytelling and even a puppet show. There will also be face painting, lawn games, instrument making and puppet crafting for hands-on fun. Food trucks will be on hand in case you need sustenance. FREE
Fall Harvest Festival – Forest Hills, Queens
Fall Festival pick: Hit Forest Park for this annual shindig featuring pumpkins to pick, kiddie games, live entertainment, and other seasonal fun. FREE
King Manor Museum Fall Festival – Jamaica, Queens
Fall Festival pick: Celebrate harvest season by sampling some culinary delights from NYC's days of yore such as Dutch eats cooked over a fire pit. Apple cider pressing, butter churning, and fall-themed crafts are also on tap. FREE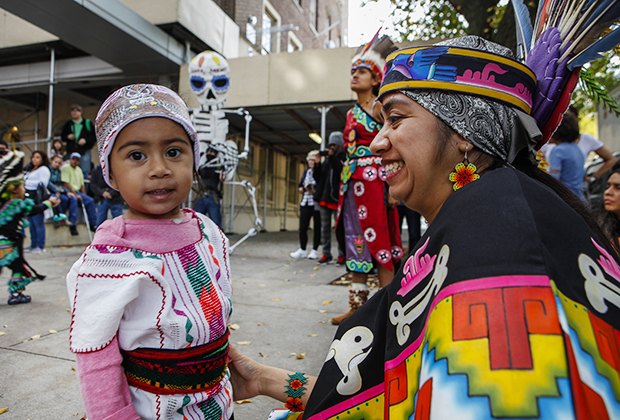 Kids can enjoy all the pageantry and arts and crafts that go along with a the Day of the Dead fete at El Museo del Barrio. Photo courtesy of the museum.
Super Sabado: Día de los Muertos Celebration — East Harlem
El Museo del Barrio museum constructs a giant Day of the Dead altar in its cafe and kids are encouraged to contribute to the display. Enjoy flower and skull face painting, holiday art projects, storytelling and a spooky procession from the nearby Dana Discovery Center in Central Park to the museum. The day closes out with a performance by the Mazarte Dance Company. FREE
Lard Dog and the Band of Shy — Upper West Side
Catch this kooky six-piece band in an all-ages hourlong show at Symphony Space. Expect plenty of interactive elements, laughs—and entertainment.
Farm Festival — Upper West Side
Play farmer at the Manhattan Country School's street festival, featuring games, rides, food vendors, and crafts. Free but fees for some activities.

See all Saturday events.
Sunday, October 16
Pumpkin Chucking — Flushing, Queens
It's science, we swear! Watch pumpkins get chucked, literally across the field at NYSCI in this seasonal demonstration of physics and a few other concepts. Plus, it involves a 20-foot catapult machine. Included in museum admission.
Harvest Fest & Pumpkin Patch — Flushing, Queens
More October GoList fun: Queens Botanical Garden's annual fete promises seasonal fun for kiddos and parents. Tykes can pick a pumpkin, feed animals at the petting zoo, hit the bounce house, and groove to live music. Parents might prefer the nature walks, artisan market, and beer tent. Note that in addition to the admission price, some activities require an extra fee.
City of Science — South Slope, Brooklyn
The new City of Science Festival, which has been hopping from borough to borough this year, brings with it dozens of hands-on activities, demonstrations, contests and challenges, and experiments for kids to try, including walking on water, generating a giant wave, and more. FREE but RSVP encouraged.
CCADI Grand Opening — East Harlem
Celebrate Caribbean culture in the Children's Village on Saturday during this weekend-long fete honoring the grand-opening of the new location of the 40-year-old Caribbean Cultural African Diaspora Institute, an organization focused on community building and social justice through arts. Kids will enjoy art-making, storytime, and more drop-in activities with this block party indoors and out. FREE
Punk Rock for Kids — Williamsburg, Brooklyn
Head to Brooklyn Bowl for a punk rock interactive music and dance class for the kids.
Great American Book Drive — Prospect Heights, Brooklyn
Drop off gently used books at the Brooklyn Central Library's massive book drive, or pick up new-to-you titles for just a buck. FREE
Minecraft Build Challenge — Midtown East
Tweens can flex their Minecraft skills during this Microsoft Store event. FREE but registration required.
Japanese Fall Festival — Upper West Side
Got a noodle fan? Head to this ramen cook-off contest and block party. Vendors will be offering all manner of Japanese specialties, including ramen. FREE to attend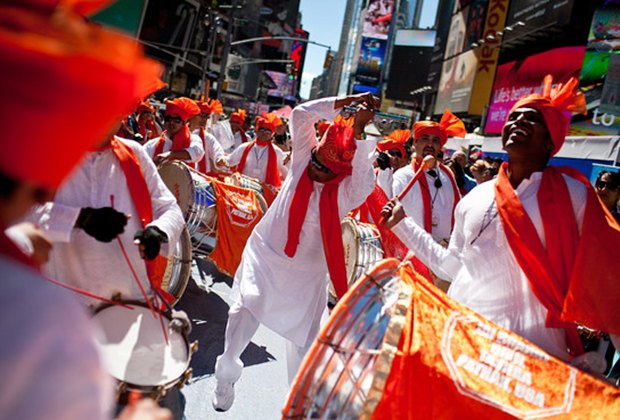 The colorful Diwali festival in Times Square includes plenty of performances and kid activities. Photo courtesy of the festival.
Diwali — Times Square
Celebrate this Indian Festival with food, dance performances, face painting, and even a fireworks display. FREE
Gustafer Yellowgold Family Concert — Upper East Side
October GoList pick: Singer, songwriter, artist, dad, and Grammy nominee Morgan Taylor hits the Jewish Museum along with his band and Gustafer, his little yellow animated alter ego from the sun. His shows are equal parts concert and cartoon, with Beatles-like tunes.
Top image: Dominos of increasing size demonstrate Newton's First Law of Motion. Photo by Greg Kessler/courtesy of the festival.