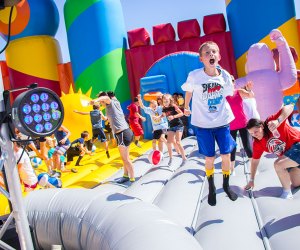 The World's Largest Bounce House Opens in Brooklyn This Weekend
Grab your socks and take your summer to new heights. The Big Bounce America, officially the world's largest bounce house, is landing in Brooklyn at Aviator Sports. The high-flying starts tomorrow, Friday, July 26, with recently-added dates through Sunday, August 4, and timed-entry sessions are selling out fast.
This touring bounce bonanza will put your block party to shame with the world's largest bounce house (Guinness certified!), a 900-foot-long inflatable obstacle course, a giant maze, ball pits, slides, climbing walls, and basketball hoops...all to be enjoyed while a DJ spins, confetti blasts, and beach balls fly through the air. Exhausted yet?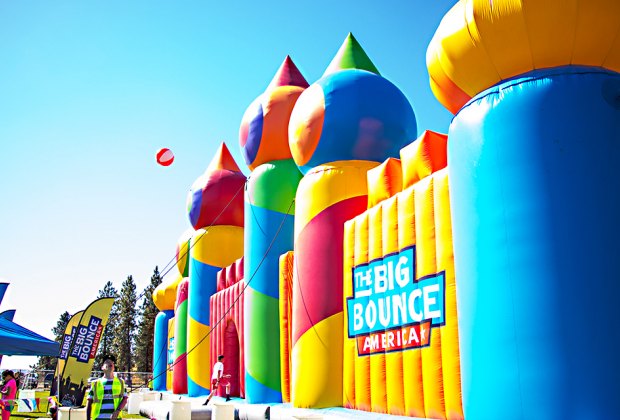 The massive bounce structure offers three different ways to jump.
The massive attraction will host three different ways to get your jump on. The Giant features 50 different obstacles to overcome as you make your way from the start to the grand finale monster slide. The airSPACE attraction is a space-themed wonderland filled with friendly aliens, spaceships, and moon craters. And The Bouncer is an insanely large castle full of inflatable fun.
Outside food and drinks are allowed, and various vendors will be available with bevs and treats. There is a dedicated, enclosed "sneaker storage" area where you can leave belongings. It will not be guarded, so best to leave your valuables at home.
There are two ticket types – 'Access All Areas' and 'Bounce House Only.' 'Access All Areas' tickets are a three-hour pass, which includes a timed session on the Bounce House, plus unlimited access to The Giant and airSPACE.
RELATED: Indoor Bounce Houses and Trampoline Spots Where Kids Can Jump Year-Round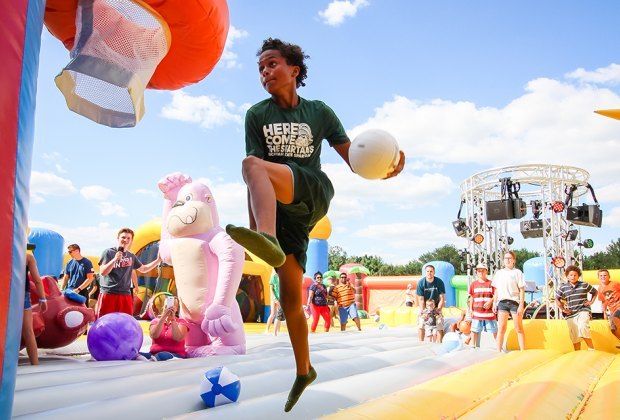 Session times are based on age to provide the best possible bouncing experience.
All ages are welcome and the bounce sessions are split based on age groups: toddler sessions (ages 0-3) provide access to all experiences for $16, junior sessions (ages 0-7) and bigger kids sessions (ages 15 and under) will cost you $24 for all experiences, and adult sessions (ages 16 and over) are $28 for all experiences. Tickets are $19 for juniors and bigger kids to access the Bounce House only.
Entry is free for parents and caregivers who only want to watch; there is a spectator area for accompanying adults. Kids ages 4 and younger must bounce with a ticketed adult. Tickets are on sale now and are selling out quickly—your best bet is a midweek bounce session.
Photos courtesy of The Big Bounce America
Aviator Sports & Event Field
3159 Flatbush Ave Floyd Bennett Field
Brooklyn, NY 11234