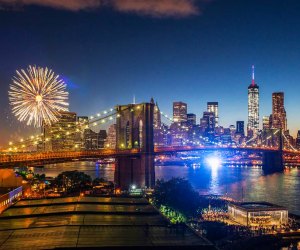 NYC's 4th of July Fireworks to Span Several Nights, All Five Boroughs in 2020
Macy's has announced the details for NYC's 4th of July fireworks extravaganza, and it's going to look a little different. Reimagined as a towering, days-long display, it's likely to put those local neighborhood fireworks exhibitions everyone's complaining about out of business.
In an effort to share the annual celebration with the masses, without generating its usual crowds, the Macy's 4th of July Fireworks will take to the sky in all five boroughs with unannounced displays on select nights beginning on Monday, June 29, and culminating in a grand finale on Independence Day itself.
Described by organizers as "brief but mighty," each display lasts only five minutes and will be set off from high-elevation locations and local waterways at an appropriate after-dark hour, so keep your eyes on the sky for this annual rite of summer and visit our Summer Guide for more family-friendly fun across the five boroughs.
"These past few months have been some of the most difficult in our city's history, and New Yorkers are looking for a break. This 4th of July celebration with Macy's will give all New Yorkers a safe and exciting way to enjoy the holiday together, even when we are apart," said New York City Mayor Bill de Blasio.
The display sites are promised to be significant, central, and visible locations, all chosen because they could accommodate the launch of the large-scale pyrotechnics Macy's annual displays are known for. Shells fired from the waterways can reach heights of up to 1,000 feet in the air, while high-elevation launch points provide an even more soaring display.
All told, more than 65,000 shells will soar above the city skyline over the course of the week, though no more than two impromptu displays will be held each day. The 44th annual edition of the fireworks show is produced in coordination with Pyro Spectaculars by Souza. Twenty-six different colors will be represented, and new effects include fireworks that can dim and reignite, silver strobe shells, pastel-colored rainbow shells, and more dazzling effects.
While this is purposely a right place, right time viewing activity, New Yorkers and audiences coast-to-coast can see all the action on the Macy's 4th of July Fireworks Spectacular, airing on NBC on Saturday, July 4, at 8pm ET. John Legend headlines the television special, which is meant to salute frontline workers and honor the Big Apple.