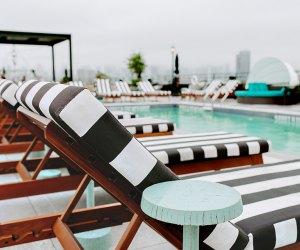 7 Family-Friendly NYC Hotels with Rooftop Pools
While we have much love for our FREE NYC pools, sometimes it's worth the splurge for a day pass to a private pool, where there are fewer rules and smaller crowds.
In summertime, the outdoor swimming options expand to include rooftop pools, thanks to NYC's creative hotel scene. Whether you're a local looking for a day pass or a tourist searching for a family-friendly hotel for an upcoming vacation, here are seven hotels with kid-friendly rooftop pools worth checking out. Some offer day passes, while others are open only to hotel guests—but even if you have to book a night, a staycation that includes a swim with a view can make a weekend into a special occasion.
The plunge pool at 1 Hotel Brooklyn Bridge gets points for creativity. Its geometric shape skirts along the balcony where it's perched. While it's got great views, it doesn't lend itself to wild romping, but will do the trick to cool down on a hot day. Pool access is for hotel guests only.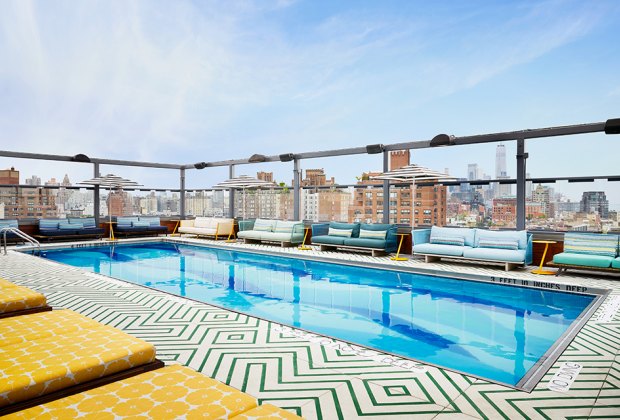 The pool at the Gansevoort Meatpacking hotel isn't just for swimming in the summer—it's open for your winter staycation too!
This pool area looks like a tropical oasis. The brightly colored murals and contrasting geometric tiled pool deck give it an ultra-cool vibe. No passes are available, but a stay nets you access to the pool, which is open year-round, should you crave the tropics come winter.
All-day access to this swank, luxury club located in a posh hotel will cost you. But you'll get what you pay for: a sunny pool area, fluffy towels, access to the fitness center, and incredible views of Central Park. The pool opens at 7am during the week for early risers and 8am on the weekends. A guest pass costs $150 per day.
This rooftop oasis, speckled with greenery and preppy striped lounge chairs, offers a welcome respite from the bustling city below. One drawback: Day passes here are for adults only. Children of hotel guests are welcome to splash, though, so book a staycation during the next heat wave.
A chic hotel rooftop pool with a stunning view of the Empire State Building? Sign us up! The Royalton Park Avenue's pool is situated on a 1,000-square-foot roof deck, with a 40-foot-pool that's open year-round. Pool is open to hotel guests only.
RELATED: Best NYC Experiences to Give as Birthday Presents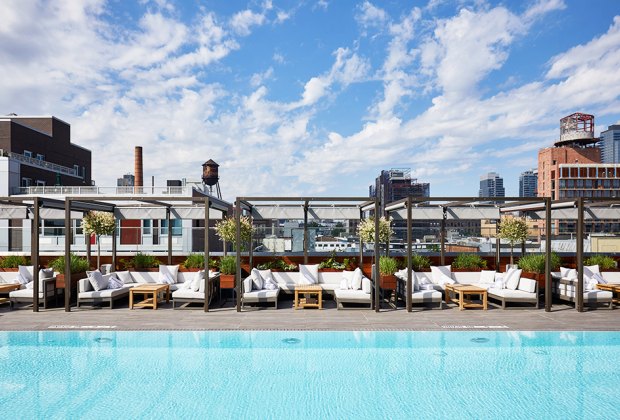 The pool at The William Vale is one of the largest in the city.
Boasting a 60-foot long pool, The William Vale's rooftop oasis is one of the largest in the city. Guest passes grant you access to the pool deck, where you can nosh on light fare from the on-site restaurant. Season-long memberships and day passes are both available, though every guest (kids included) will need a pass of their own.
RELATED: 19 NYC Hotels With Serious Perks for Families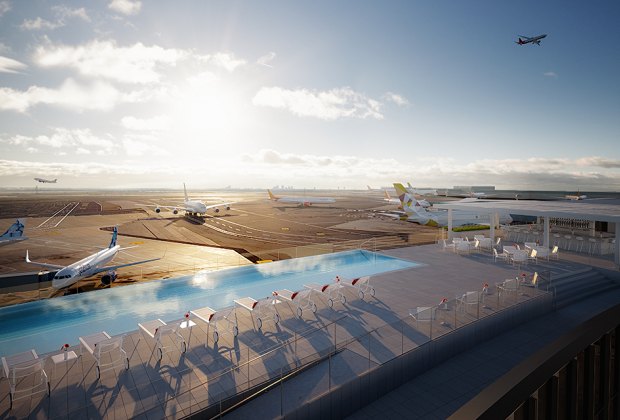 Reserve a table at The Pool Bar, and enjoy a meal with a side of swimming in the infinity-edge pool overlooking the runway.
If you can't afford to jet away to a far-flung destination this summer, this just might be the next best thing. Reserve a table at The Pool Bar, and you can enjoy your meal (kid-pleasers like fries, hummus plates, chicken paninis, and burgers are all options...along with 1950s era cocktails for the grown-ups) while watching the comings and goings of jumbo jets on one of JFK's busiest runways. Afterward, take a swim in the infinity-edge pool that overlooks the scene. Much of the hotel, which was built around the space-age looking TWA terminal, is open to the public, so check it out before you head back into the city or catch a flight on one of those planes.
Photos courtesy of the hotels