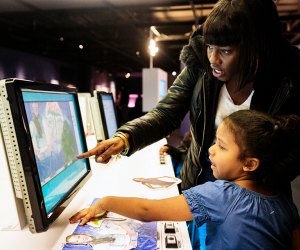 Best Things To Do in NYC in May With Kids
May means comfortable outdoor dining options and family-centric holidays, like Mother's Day and Memorial Day weekend. The unofficial start of summer shimmers as Governors Island, city beaches, water parks, and amusement parks all open for the season this month. Maybe the most anticipated event in May, though, is Lincoln Center's Restart Stages, opening May 10 and hosting a terrific concert for kids on Saturday, May 15.
There are not as many fairs and festivals as in years past, of course, but we're starting to see those come back as well, including Queens' Sheep Shearing Fest and the Lower East Side Festival of the Arts. Live theater returns to the 92Y with a brand new version of Peter Pan. Families can catch an immersive version of Robert Louis Stevenson's Treasure Island at Radial Park in Queens and Literally Alive's musical take on Cinderella in the Village.
For more activity ideas, do consult our Spring Fun Guide. It's also a great month to check out our NYC Parks & Playgrounds Guide.
As always, if an event piques your interest, click through to our listing for all the details, including address and time. And keep in mind, in NYC, really cool things to do with kids often book up quickly, so buy your tickets ASAP or, in the case of FREE events, arrive as early as possible. Be sure to sign up for our FREE newsletters so you can get our picks delivered to your inbox.
Editor's note: While we are trying to promote safer activities that occur outdoors or with social distancing guidelines in place, please keep your family and others safe by always wearing a mask and maintaining an appropriate distance. If you arrive at an event that appears too crowded, try using the "nearby" search feature on our event calendar to find something else to do.
Saturday, May 1
Queens' beloved bastion of film and television opens its doors with a brand new exhibit, Envisioning 2001: Stanley Kubrick's Space Odyssey. Weekly screenings of the classic film are scheduled, and families can also revisit the Jim Henson exhibition, a salute to the Simpsons, and more.
RELATED: See The GREEN Transform Lincoln Center's Famed Plaza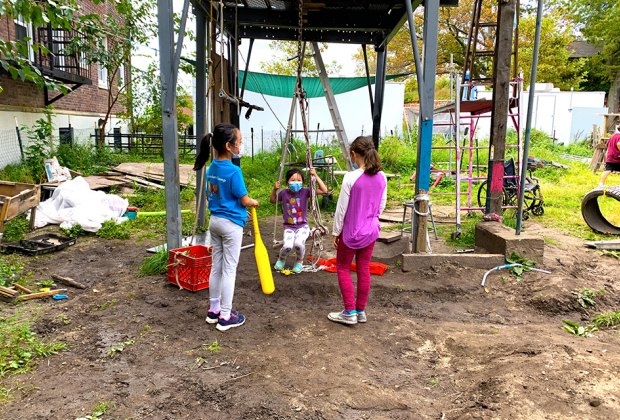 The Yard, NYC's only adventure playground, located on Governors Island, opens to the public Saturday, May 1. Photo courtesy of The Yard
Saturday, May 1 & Sunday, May 2
Governors Island's adventure playground welcomes kids ages 5 and up for the first time since 2019, with COVID safety protocols in place. Timed slots are available on a first-come, first-served basis at the gate. FREE
Saturdays & Sundays, May 1 through June 6
Live musical theater is back at the Player Theatre in the Village, with Literally Alive's new musical take on the classic tale. If the shoe fits, COVID precautions are in place to keep you safe and comfortable.
Sunday, May 2
Get a jump on Free Comic Book Day (usually the first Saturday in May, but postponed this year until August 14) by creating a comic book with an original story at the Children's Museum of Manhattan.
Daily, Sunday, May 2 through Sunday, May 16
Macy's celebrates a year of renewal and fortitude with those most delicate and resilient of living things: flowers. This year's show promises to wow visitors with dragonfly dreamscapes and butterfly bridges. Give your eyes and noses a treat. FREE
Thursdays, May 6 through June 24
Concerts in Riverside Park make a comeback with the Moosiki Kids leading the charge. Attendance is limited, so register in advance online.
Saturday, May 8
Set your family up for a summer on two wheels (or more) at Old Stone House. The annual Bike Jumble sells cycling accessories, new and used bikes, and bargains galore can be had. FREE
RELATED: Best Bike Riding Paths for NYC Families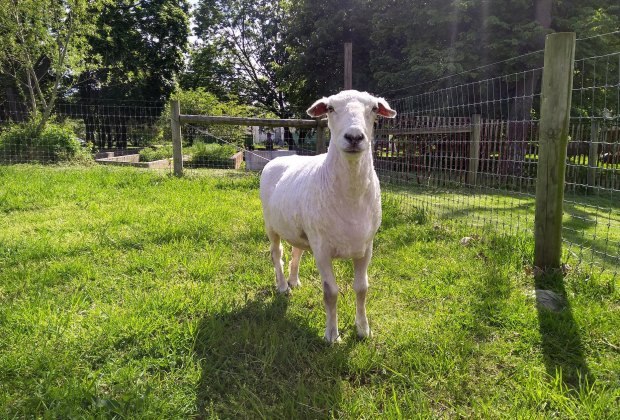 Sheep Shearing is back at the Queens County Farm Museum. Photo courtesy of the Museum
Saturday, May 8
Wool gatherers rejoice! It's haircut time for sheep on the farm. Plus, kids can dance to the New Orleans-style music of Mama Juke, learn about composting, and adopt a worm to take home.
Saturday, May 8
Learn all about the birds who make NYC their (temporary) home, using Randall's Island for a little R&R on their way to summer destinations. You can bring your own binocs or borrow sterilized loaners on-site. FREE
Saturday & Sunday, May 8 & 9
The 92nd Street Y debuts a dance-focused version of Peter Pan that can be viewed in person or virtually. Tinkerbell, Captain Hook, and the boy who doesn't want to grow up are all present and accounted for.
Opens Saturday, May 8, then Thursday through Sunday through September 26
The Museum of Arts and Design presents a gorgeous dollhouse created during and in response to the pandemic, with art specifically crafted for the project by prominent international artists. The dollhouse also includes exquisite replicas of a jousting tent, a festival tent, a dovecote, and a grotto tent containing micro-artworks. Purchase timed tickets in advance.
Sunday, May 9
If being a mom ever struck you as a kind of obstacle course (laundry ho!), Think 'n' Fun takes that concept to the next level with a Mother's Day obstacle course for all ages at 74th Street in Riverside Park. Dads can run, too. All participants get medals, and moms score a special goody bag.
RELATED: Best Carousels in NYC: 13 Merry-Go-Rounds City Kids Love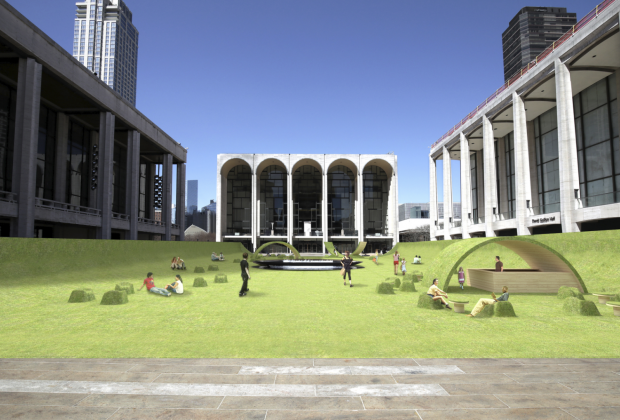 The GREEN is meant to transform Josie Robertson Plaza into an inviting, 14,000-square-foot space to visit, linger, and enjoy live entertainment and passive recreation.
Monday, May 10
MacArthur Genius grantee Mimi Lien has transformed approximately 14,000 square feet of open, concrete expanse into an environment that invites New Yorkers to relax and enjoy the open space. As spring segues into summer, pop-up performances of all kinds will sprout up—including music, dance, and a series of family performances and workshops. Red Baraat kicks off the kid-friendly programming Saturday, May 15. Keep an eye on our calendar for details. FREE
Friday & Saturday, May 14 & 15
The Hispaniola sails again in an immersive theater version of the classic tale, which can be viewed live or virtually. Radial Park goers can choose to opt for a drive-in experience or snag a picnic table for four to see the show.
Friday, May 28-Sunday, May 30
After a virtual foray in 2020, Theater for the New City hosts this beloved tradition live again, packing the LES with all kinds of theater experiences throughout Memorial Day weekend. Keep an eye on our calendar for updates as they roll in. FREE
Open Saturdays through the fall
The weekly open-air night market returns to Fordham with COVID safety top-of-mind, timed-entry ticketing, family-friendly hours, low prices, musical performances, and vendors selling everything from pork buns to pastries to paintings. FREE, but bring cash for snacking and shopping.
RELATED: NYC Spring Fun Guide: Outdoor Fun, Fairs, Day Trip Ideas, and More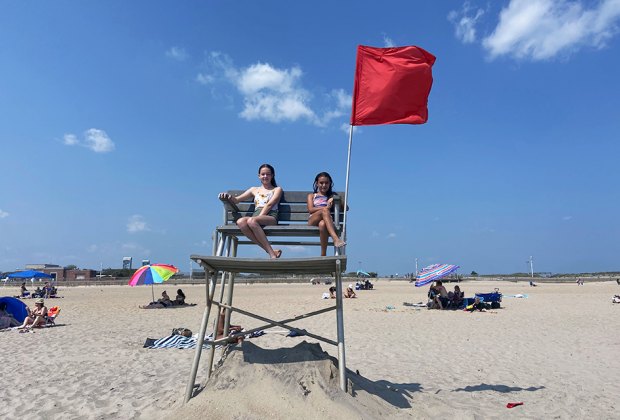 Head to the shore in NY or NJ for an easy day trip. Photo by Sara Marentette
Opening Saturday, May 29
Memorial Day weekend is considered the unofficial start of summer because beaches in NYC (and the tristate area) open the Saturday before the Monday holiday. While day trips to nearby shores in New Jersey and the beaches of Long Island are lovely if you have a car and don't mind waiting in traffic, you can access beaches in four boroughs with just a swipe of your MetroCard. Only Manhattan does not have a beach, though funnily enough, Brooklyn has a Manhattan Beach. Coney Island is a family favorite since it has amusement parks, the New York Aquarium, and other kid-friendly attractions. But don't count out Brooklyn's Brighton Beach, the Bronx's "Riviera," Orchard Beach, or surfing central Rockaway in Queens. Masks and social distancing are enforced. FREE
Late May
Although you can do almost everything in NYC, there are a handful of activities that are only accessible outside the five boroughs. Strawberry picking is one of them (unless you count grabbing them off the aisle at Fairway). Nothing beats the taste of strawberries plucked straight from the vine when they're in season (as in late May and early June). Happily, several pick-your-own patches are not too far from the city, many of which open for picking Memorial Day weekend.
RELATED: NYC's Best Playgrounds: 20 Parks Worthy of a Subway Schlep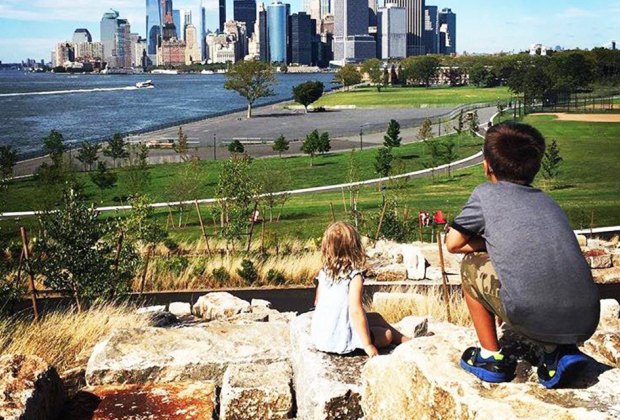 Climb The Hills on Governors Island. Photo courtesy of Governors Island
Honorable Mentions
NYC has so many amazing things going on, it's often difficult for us to narrow down our top picks each month. So here are a few more cool events worth considering for your May calendar.
Be one of the first in line for the ferry when Governors Island officially opens for the season Saturday, May 1. FREE
Catch Puppetworks' marionette version of The Wizard of Oz, complete with an original score.
Venture up to the roof of the Metropolitan Museum for gorgeous views of Central Park, and a peek at As Long as the Sun Lasts, a specially commissioned sculpture by Philly artist Alex Da Corte.
Boogie Down to Storytime on Randall's Island for a yoga-themed, stress-busting tale or two on Saturday, May 1. FREE
Wander to Wave Hill's Conifer Slope any weekend in May for outdoor family art projects.
Introduce the kids to spring chores—the old-fashioned way—at Historic Richmond Town.
Interact with some art at Rockefeller Center's Life Forces digital exhibit. FREE
City Hall Park is the setting for Melvin Edwards' Brighter Days exhibition, featuring five sculptures that speak to African-American culture. Originally planned to open in June 2020, the pieces are on view starting Tuesday, May 4, through Sunday, November 28. FREE
Celebrate Mother's Day at Green Meadows, where moms are admitted for FREE, and kids can revel in animal meet-and-greets, a hay wagon slide, and a farm playground.
Abrons Arts Center hosts bi-monthly drop-in classes in salsa, mural painting, and games for the whole family—all outside, weather permitting. May's dates are Sundays May 9 and 23. FREE
Planeta Abuelx sets up camp in Socrates Sculpture Park. The solo exhibition of work from artist Guadalupe Maravilla draws on ancestral, indigenous, and ritual practices of holistic healing and opens Saturday, May 15. FREE