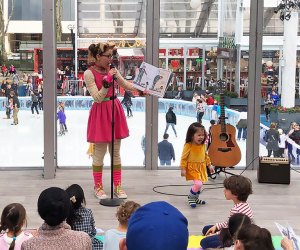 25 Free Activities For Midwinter Break
Midwinter break always seems to sneak up on me. We're barely into a post-holiday groove, and yet again, we've got a full week off from school to fill. While we've already rounded up 35 fun-filled activities for the week, many of them come with a high price tag. To give your budget a bit of relief, we've got 25 more ideas for the February school break that are entirely FREE. Visit our Free in NYC Guide for more money-saving options for school break or any day you need to entertain your kids on the cheap.
Some of these picks happen every day, while others are one-time events. Be sure to click through the links for full details.
Free Activities in the Parks
1. Head to Prospect Park for a week full of fun, including the Backyard Bird Count, checking out discovery packs, and hearing talks about wildlife habitat building.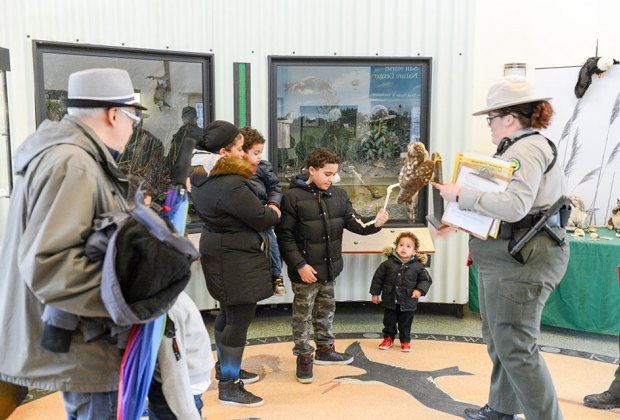 Bring your kids to parks throughout the city for Kids Week to participate in programs led by Urban Park Rangers. Photos courtesy of NYC Parks
2. Join the Urban Park Rangers for Kids Week Activities, which introduce your kids to the wildlife right here in the city.
3. Check out artist Krzysztof Wodiczko's Monument in Madison Square Park.
RELATED: Inexpensive Midwinter Break Camps

Fort Greene Park has amazing sledding hills. Photo by Kate Lewis Andrews
Free Wintertime Fun
4. Pray for a big storm so you can burn off some energy at one of these fabulous sledding hills.
5. Visit NYC's only free skating rink in Bryant Park for a Read to Skate storytime. Not only can you nab a free book and enjoy storytime, but you can earn a free skate rental, too. There are tons of other fun events planned throughout the park during the week, too.

Explore the innovations of native people at the National Museum of the American Indian. Photo by Jason DeCrow/AP Images
Free Activities at Museums and Cultural Institutions
6. Visit the always-free National Museum of the American Indian.
7. Or visit an off-beat, only-in-NYC museum. Several are completely FREE.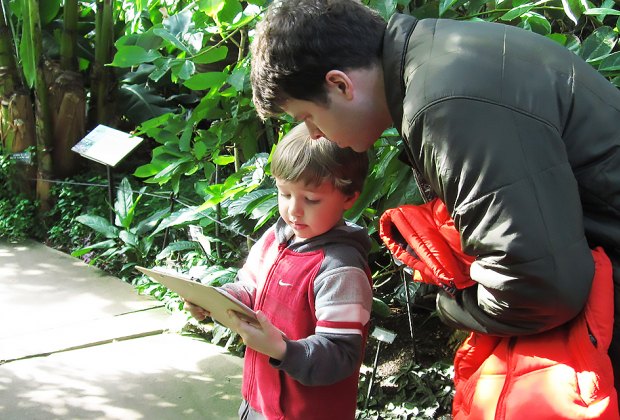 Check out Discovery Days at the Brooklyn Botanic Garden. Photo courtesy of BBG
8. Visit the kid-friendly Brooklyn Botanic Garden for February Break Discovery Days, where you can use your senses to explore the ecosystems in the lush (read: warm) conservatories.
9. Visit the New York Botanical Garden, which offers free grounds admission for NYC residents. While it won't get you into the orchid show, it will grant access to the family-friendly Everett Children's Adventure Garden.

Spend a day at the Sugar Hill Children's Museum of Art and Storytelling, then explore the neighborhood! Photo by Janet Bloom
10. Another fun spot with complimentary admission (at least for the kids!) is the Sugar Hill Children's Museum of Art and Storytelling.
11. Drop into another one of New York's many cultural hubs during FREE hours.
12. Or plan in advance and reserve a Culture Pass with your library card.
13. Kick-off the week with a celebration of the Year of the Rat at Brooklyn's Central Library with the Nai-Ni Chen Dance Company on Saturday, February 15.

Celebrate Losar, the Himalayan New Year, with an afternoon of art at the Rubin Museum. Photo courtesy of the museum
14. Head to Losar Family Day at the Rubin Museum of Art to learn about traditional Losar celebrations, make your own Metal Mouse, and construct "torma" butter sculptures.
15. Catch a performance during the New York Half Moon Sword Dance Festival, which offers performances throughout Brooklyn and Manhattan.
RELATED: NYC Stores Offering Free (or Cheap) Classes for Kids

CAMP is an all-around winning destination for kids and adults. Photo by Janet Bloom
Free Indoor Places to Play
16. Check out the interactive CAMP Store in Brooklyn before it abandons its Base Camp theme! There are locations two Manhattan locations, too, in Flatiron and the Hudson Yards.
17. Enjoy a no-cost storytime at a variety of spots in Manhattan, Brooklyn, and Queens.
18. Do some window shopping at these 14 funky stores. It doesn't cost anything to look or snap a few pics for your Instagram feed!
19. Use that adventure as inspiration for a Draw NYC program at the Chelsea Market.

In celebration of Black History Month, join the Paley Center for family screenings that celebrate the black and African-American experience through classic television shows, like That's So Raven, every Saturday afternoon in February!​ Photo courtesy of Disney
20. Celebrate Black History Month at the Paley Center for Media's Family Screenings, which pay homage to significant moments in African-American television history and Motown's 60th anniversary.
21. Dance on the piano at FAO Schwarz or visit one of these other stores where kids play for FREE.
Free Activities For an Early Spring
22. If Staten Island Chuck is right and spring comes early, hit up The High Line for a family-friendly stroll. Check out the changing face of the skyline with the rising Hudson Yards.
23. Get some face time with the animals at NYC's only working farm, the Queens County Farm Museum.
24. Set sail on the FREE Staten Island Ferry.
25. Another unique form of public transit: Hop aboard the Roosevelt Island Tram and soar above the city streets and the East River. While it costs a MetroCard swipe, the views are priceless, and there's plenty to explore across the river.
This post, originally published in February 2019, has since been updated.