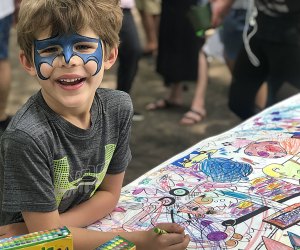 Best June Festivals and Street Fairs for NYC Families
New York City's festival season kicks into high gear in June. The debut of warmer weather prompts a head-spinning number of fantastic fairs, parades, carnivals, and other fetes—more than two dozen.
And we're not talking about just street fairs selling random tchotchkes and tube socks. These are the favorites we look forward to every year, including Museum Mile, Egg Rolls, Egg Creams & Empanadas, Figment on Roosevelt Island, and Coney Island's iconic Mermaid Parade—all of which made our list of the top annual festivals for NYC families.
So get your calendar; you're going to want to write these dates down. Here are more than three dozen great family festivals for June 2019, most of which are FREE.
Check our NYC Summer Fun Guide for more freebies and great kid and family events and outings, and be sure to click through to our listings for exact locations, times, and additional details.