< Event Calendar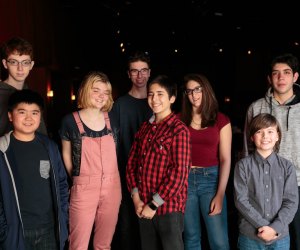 Kids 'n Comedy 2018 Shows
Sun Sep 30, 2018
1:00pm
9 - 18 with their families
Kids 'N Comedy presents monthly shows at Gotham Comedy Club with a turntable of talented teens and 'tweens from the tri-state area. In the company's shows, each comic performs his/her own material, which is screened to be free of profanity and abrasive or cheap "low" humor (like fart jokes) and no knock/knock jokes.
They do, however, venture into edgy comic terrain: politics, getting old, even death. Laura Weiss wrote in Big Apple Parent, "This kid humor is quirky and often slightly mordant, with a sophistication that belies the comedians' youth. Plus, these kids are hilarious."
FALL/WINTER 2018
September 30 THE BACK TO SCHOOL SHOW
Pencils, books and plenty of shenanigans are to be had at the kick off show to the fall season. Class clowns share their witticisms and neuroses until you feel as awkward as they do. Better pick out your outfit the night before.
October 28 THE SCARY PRE-HALLOWEEN SHOW
At Kids 'n Comedy, it's okay to admit you're scared. Like, if the thing you're afraid of is flesh-eating zombies who can successfully navigate the subway (terrifying!). The funniest teenagers in the tri-state area discuss their deepest, darkest, most hilarious fears.
November 18 THE PRE-TURKEY SHOW
It's (almost) Thanksgiving, and that means being thankful for everything good in your life. Pilgrims, turkey, and long overbearing family dinners. What could be worse? Come down and watch some kid comedians provide their personal guidance in surviving this wonderfully painful holiday, and how best to enjoy the food!
December 16 CHRISTMAKWANZUKAH
It's that time of the year again! Time to rediscover family togetherness and strange religious traditions! Young comedians share their very deep struggles with finding the joy in the holidays and how these feelings of anguish are great for family gatherings - including which Christmas sweaters are itchy, and what menorahs are tacky. 'Tis the season, right?
Gotham Comedy Club
208 West 23rd St.
New York, NY 10011
** Event dates/times are subject to change. Please click through to the event website to verify.