< Event Calendar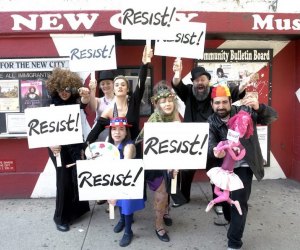 The 25th Annual Lower East Side Festival of The Arts Street Fair & Youth Program
NYC's Lower East Side Festival of the Arts is an annual celebration of the rich artistic culture and ethnic diversity of this area. For three days over Memorial Day Weekend, TNC produces a cabaret-style festival featuring over 100 performing groups from the Lower East Side - and this year it's all online.
Offerings include both live and recorded material from artists presently residing on the Lower East Side, arts groups performing there, prominent writers and artists whose work has dealt directly with the Lower East Side experience, and plays written especially for this festival.
On Saturday, May 23 at 8pm Eastern (7pm Central; 5pm Pacific), there will be a live concert of performances by David Amram, Charles Busch, F. Murray Abraham, Penny Arcade, Phoebe Legere, Austin Pendleton, William Electric Black and Reno. Following their performances, a number of these major LES artists will do a virtual "sit around" to discuss theater, politics, COVID-19 and the human spirit.
The Children's festival features a variety of talented performers curated by Donna Mejia . Programming begins at 6pm Eastern on May 22.

-Harlem Repertory Theatre present The Wizard of Oz: A Jazz Musical for All Ages

-COBU kids takes drumming to the next level

-TADA! Theater perform a musical theater piece from Golly Gee Wiz!

-Brooklyn Irish Dance Company present a beautiful Irish Step dance.

-The American Thunderbird Indians perform a traditional hoop dance.

-FunikiJam Music performs two upbeat interactive songs.

-The Rod Rogers Youth performs an original modern dance piece

-Sophie Star dances with style and high energy

-TNC kids perform an inspirational song.

-The Swedish Cottage Marionettes perform Peter Pan.

-John Grimaldi Juggler delights audiences of the New York Lyric Circus

The shows run continuously through Sunday May 24 online.

There will be a Poetry Jam Sunday, May 24 with 28 poets.

All events will be streaming from 6pm Eastern on Friday, May 22 to 11:59pm Eastern on Sunday, May 24. Attendees will be able to select disciplines and artists from the TNC website's online timetable and index.
** Event dates/times are subject to change. Please click through to the event website to verify.