< Event Calendar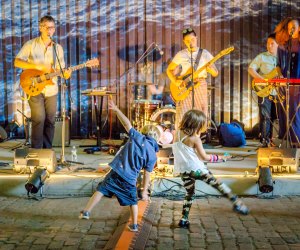 Live at the Archway Series 2019
Live at the Archway is DUMBO's signature series features dynamic musical performances, pop-up galleries, and interactive art experiences in a magical, only-in-DUMBO setting. Always free, always all ages, and always rain or shine.
New this year: Family Jam opens each night event at 5:30pm with puppets, hula hoopers, and more spectacle fun for kids and adults.
Schedule of events:
June 13
Family Jam 5pm: The best of Dock Street Middle School & PS307 students
5:45pm: Fogo Azul
6:30pm: Nkumu Katalay & The "Life Long Project" Band, with a DJ Set by Kai Song to follow.
June 20
Family Jam 5:30pm: Spectacular hula hooping by Big Sky Works
6:30pm: Site specific dance from Whote WaveYoung Soon Kim Dance Company
7:30pm: Brown Rice Family
9pm: Jan Bell & The Maybelles, led by the founder of the Brooklyn Americana Music Festival
June 27
Family Jam 5:30pm: TBA
6:30pm Los Hacheros
July 18
Family Jam 5:30pm: Pop Music by Puppetsburg
6:30pm: Kombilesa Mi
July 25
Family Jam 5:30pm: Trio Rasteirinho
6:30pm: Caique Vidal and Batuque
August 1
Family Jam 5:30pm: A fashion show, presented by the Center for Cuban Studies & Ana Ratner
6:30pm: Yunior Terry & Son De Altura
August 8
Family Jam 5:30pm: Miss Saturn
HEADLINING ACT AT 6:30pm: Dandy Wellington
August 15
Family Jam 5:30pm: konverjdans
6:30pm: Alsarah & the Nubatones
August 22
Family Jam 5:30pm: Splendid Elephant by Puppetsburg
6:30pm: Say She She with a DJ set to follow by Rashad Ringo Smith
August 29
Family Jam 5:30pm: Bouncin' Bridge Boys
6:30pm: The Good Folks & Motteo
Archway under the Manhattan Bridge
Water St between Anchorage Place and Adams St.
Brooklyn, NY 11201
** Event dates/times are subject to change. Please click through to the event website to verify.